Paris Jackson pays tribute to grandad Joe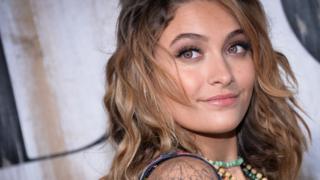 Paris Jackson has paid tribute to her grandad, Joseph Jackson – saying he's "the strongest man I know".
Joe, the dad of music legend Michael Jackson, died on Wednesday at the age of 89.
Paris posted a photo which appears to show her holding hands with him on Instagram.
She said his life's work "will go down in history" and he will be known as "one of the greatest patriarchs to ever live".
The history of entertainment is littered with stories of pushy parents.
But it's no stretch to say that without Joe's relentless drive, we might never have heard of a young singer called Michael and his talented brothers and sisters.
When you listen to the Jackson 5, it's impossible not to get swept up by the sheer joy of the music.
But behind the scenes, life wasn't easy for the family.
Joe, who'd had a very tough upbringing, was determined to make things better for his kids.
After realising they had a talent for music, he spent what little money he had on instruments and microphones.
A band was formed and the children rehearsed for up to three hours a day. Remember, Michael was just five-years-old when he joined.
As well as the relentless singing, dancing and playing rehearsals, there was also a gruelling touring schedule.
Joe was famously strict but some of his children, including Michael, say the punishing routine tipped over into emotional and physical abuse.
In 1993, Michael told Oprah Winfrey that he used to be beaten by his father and that he'd literally be sick with nerves, if he saw him.
Joe Jackson always denied beating him – once telling documentary filmmaker Louis Theroux: "I whipped him with a switch and a belt. I never beat him. You beat someone with a stick."
As Michael's solo success began to eclipse the family band, their father's influence on him decreased. Instead, he poured his energy into daughter Janet's career – who also became a global star.
Joe Jackson always insisted he did what he did for his children.
And there's no arguing he helped turn a poor family into one of the most instantly recognisable names on the planet.
That's why some say history has been too unkind to him.
Daughter LaToya hinted at this after the news of his death, saying: "I will always love you! You gave us strength, you disciplined us in your own way, you made us one of the most famous families in the world."
Michael Jackson's son Prince has also spoken about the drive and determination that helped transform the family, saying: "This man is and always will be an example of sheer willpower and dedication."
Michael himself seemed to have forgiven his father.
Speaking in 2001, he told an audience: "I have begun to see that even my father's harshness was a kind of love, an imperfect love, to be sure, but love nonetheless.
"He pushed me because he loved me."
Follow Newsbeat on Instagram, Facebook and Twitter.
Listen to Newsbeat live at 12:45 and 17:45 every weekday on BBC Radio 1 and 1Xtra – if you miss us you can listen back here.