Oscars 2018: James Franco snubbed, Christopher Plummer nominated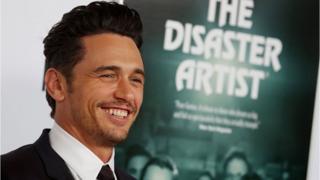 The fallout from Hollywood's sexual harassment scandal appears to have been felt in this year's Oscar nominations, with James Franco missing out while Christopher Plummer made the cut.
Franco had been tipped for an Academy Award nomination for best actor.
But after he won a Golden Globe, five women accused him of inappropriate behaviour, which he disputed.
Plummer is up for best supporting actor after replacing Kevin Spacey in All The Money In The World at the last minute.
Allegations against Spacey, Harvey Weinstein and others have dominated talk in Hollywood in recent months.
The accusations against Spacey emerged in October, less than two months before All The Money In The World was due to be released. (Spacey has issued an "absolute" denial of the allegations.)
Director Sir Ridley Scott decided to shoot Spacey's scenes again, with 88-year-old Christopher Plummer in his role – all while keeping to the original release schedule.
Despite the tight timeframe, the role has earned Plummer the third Oscar nomination of his career.
Franco, meanwhile, looked on course for his second Oscar nomination after winning the Golden Globe for best actor in a comedy or musical for The Disaster Artist earlier this month. The winner of that award had been nominated for an Oscar for the last six years in a row.
Franco was also named best actor in a comedy at the Critics' Choice Awards.
But following the Globes, four students from his acting school and an actress told the LA Times they were victims of "an abuse of power".
Before Tuesday's nominations announcement, many leading tipsters expected him to be on the shortlist. Oscars voters had eight days to cast their ballots, and the LA Times story was published the day before voting closed.
Film critic Tim Robey said the allegations "almost certainly" cost Franco his nomination.
"I think it would have been on people's minds as they were ticking off their ballot boxes and perhaps, female voters especially might have felt it was inappropriate to reward him [Franco] this year," he told Reuters.
But others were divided over whether the allegations were the key factor in him missing out.
Franco also hosted the Oscars with Anne Hathaway in 2011.
Speaking at the weekend's Screen Actors Guild Awards, his sister-in-law Alison Brie told E! News: "What we've always said is it remains vital that anyone that feels victimised should and does have the right to speak out and come forward.
"I obviously support my family. Not everything that has been reported is fully accurate, so I think we're waiting to get all the information.
"But of course now is the time for listening and that's what we're all trying to do."
The fallout from the abuse scandal is also likely to loom large at the Oscars ceremony itself in Hollywood on 4 March.
Follow us on Facebook, on Twitter @BBCNewsEnts, or on Instagram at bbcnewsents. If you have a story suggestion email entertainment.news@bbc.co.uk.