Need to catch up? Here's five things we learned this week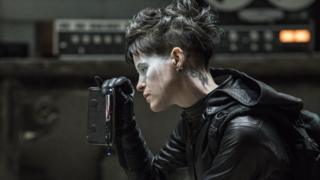 Here's a round-up of five things we learned in the world of entertainment this week.
1. Post Malone had a relatable tattoo
Have you felt sleepy today? It seems almost certain Post Malone has. The 22-year-old rapper had the words "always tired" tattooed underneath his eyes on Wednesday.
Chade Rowe, the Indiana-based tattoo artist behind the lettering, shared a post of the artist on Instagram to debut the design.
"'Yesterday was one of the most surreal moments of my entire life," he wrote.
"I had the absolute honour to tattoo @postmalone and his crew, and even had the man himself TATTOO MY HAND".
Many people said they could empathise.
"Post Malone getting 'always tired' tattooed under his eyes is the most relatable thing I've ever seen," one user wrote.
"When Post Malone's face said 'always tired', I felt that," added another.
2. Claire Foy is ditching royal gowns for leather
Lisbeth Salander – the protagonist in The Girl With The Dragon Tattoo series – is frequently defined by the unexpected.
It therefore fits that Claire Foy, most recently known for portraying Queen Elizabeth in acclaimed Netflix series The Crown, should takeover from Rooney Mara to play the leather-clad hacker.
Foy looks unrecognisable in the launch trailer for The Girl in the Spider's Web – the first instalment since David Fincher's 2011 thriller – adapted from Stieg Larsson's novels.
The actress admitted to Entertainment Weekly that, while she was initially hesitant to take on the role, for which Mara secured an Oscar-nomination, she grew "really excited" following discussions with director Frede Alvares.
3. Miss America is scrapping the swimwear round
As a staple of American culture, the Miss America beauty pageant announced plans to change with the times earlier this week.
Organisers of the event say competitors will no longer be judged on physical appearance.
The swimwear and evening gown segments are both set to be axed, with contestants asked to wear something that makes them feel good and expresses their personal style instead.
Former winner Gretchen Carlson broke the news on ABC's Good Morning America.
"We will no longer judge our candidates on their outwards, physical appearance. That's huge," she said.
4. Louis Walsh has left the X Factor
Louis Walsh announced his decision to leave talent show The X Factor after what he described as 13 "fantastic" years.
Walsh, 65, has been the show's longest-serving judge, appearing on all but one edition since it began in 2004. In a statement, the Irishman said the show "needs a change and I'm ready to leave".
Production company Thames thanked him for playing a "huge part" in the show's success.
5. Kylie reunited with Nick Cave
After celebrating turning 50 a few weeks ago, Australian popstar Kylie promised fans she had no intention of stopping any time soon. And the former Neighbours actress stayed true to her word, joining Nick and The Bad Seeds on stage in London for a rare live performance of their 1995 duet Where the Wild Roses Grow.
Where the Wild Roses Grow, a number 11 hit in 1995, remains one of the most left-field moments of Kylie's career.
The singers first performed it together at the Feile Festival in Cork in 1995.
---
Follow us on Facebook, on Twitter @BBCNewsEnts, or on Instagram at bbcnewsents. If you have a story suggestion email entertainment.news@bbc.co.uk.