Manchester Arena attack: Music events to commemorate anniversary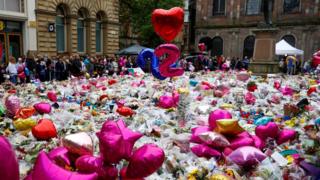 A communal sing-along and a projection of song lyrics are among the events that will mark the first anniversary of the Manchester Arena attack.
Twenty-two people were killed and hundreds injured when Salman Abedi detonated a home-made bomb at an Ariana Grande concert on 22 May 2017.
Manchester City Council leader Sir Richard Leese said it is "only fitting" that music should mark the anniversary.
A civic memorial service has previously been announced.
The Manchester Together – With One Voice event will take place on Tuesday 22 May and will bring together choirs from the city and beyond.
The final half hour will be a communal singalong, which will be broadcast live on BBC Radio Manchester.
A second event named There Is A Light will take place 22-26 May. Song lyrics will be projected on to St Ann's Church and other parts of St Ann's Square.
Families of the 22 victims have been invited to select lyrics and members of the public can also make suggestions online.
A civic memorial will be held on 22 May at Manchester Cathedral for an invited congregation.
It will be screened in Cathedral Gardens for the public as well as at York Minster, Liverpool Metropolitan Cathedral and Glasgow Cathedral.
Sir Richard said music is "in Manchester's soul" and this was shown in the aftermath of the attack when "spontaneous song captured the city's spirit".
A crowd broke into a rendition of Don't Look Back In Anger by Oasis at a vigil after the attack.
"Coming together in song will once again demonstrate that remarkable sense of togetherness," he said.
"It is a fitting way for us to honour those who went full of joy to a music concert but never came back, or saw their lives changed forever."