Loose Women dropped on International Women's Day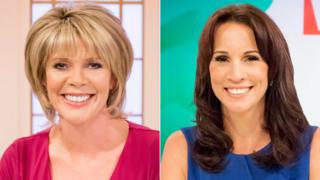 ITV reached peak irony on Wednesday as it dropped Loose Women from its schedule on International Women's Day.
To be fair, the channel had a pretty good excuse – it wanted to make way for its special coverage of The Budget.
But the Twitterati spotted the paradox and immediately started venting their frustration.
"Coming home from uni to find Loose Women had been replaced by the chancellor budget was below par 😒," tweeted Sarah Armstrong.
Jan said: "Cannot believe that Loose Women is not on TV on International Women's Day," while Mark Williams added the decision was a "bit weird".
'Not an outrage'
It's fair to say dropping a show fronted by four women in favour of a middle-aged white man in a suit reading out numbers probably isn't what our ancestors had in mind when the first Women's Day was held in 1909.
But Ruth Langsford had already told viewers that the show would only be absent for one day and the team would return on Thursday.
"Just to remind you we're not here tomorrow because of an ITV News Budget special," she said at the end of Tuesday's programme.
"I'm sorry, but the good news is we are back on Thursday and Gok Wan will be here."
Good news indeed.
Yet that didn't appease the legions of viewers who tuned in on Wednesday expecting their daily dose of the loose ladies.
Amy Lawson tweeted: "No Loose Women on International Women's Day = Sad times 😔."
"Most people just want the bullet points of the budget which we can get on the news and internet – did [ITV] really need to cancel Loose Women?" asked Bridget Sears.
Some people welcomed the schedule change, however.
Iona Bain added: "Quite right that Loose Women is replaced by #Budget2017 on ITV on #IWD2017. Taking an interest in economics is in every woman's interest."
Jonesy said that he was just "disappointed that it hasn't been cancelled permanently," adding: "Terrible TV."
Another fan pointed out the show being cancelled is "not an outrage", adding: "Women not having access to sanitary products is. Priorities."
One viewer came up with an excellent solution: "Why didn't @LooseWomen do a budget special? It would've been much more interesting and to the point!"
Take note for next year, ITV.
The worst piece of news for Loose Women fans is that the show is also being pulled on four days next week.
It will air on Monday, but ITV has dropped it from its schedule from Tuesday until Friday to make way for Racing Live at the Cheltenham Festival.
Probably a good idea to steer clear of Twitter for the best part of next week.
---
Follow us on Facebook, on Twitter @BBCNewsEnts, or on Instagram at bbcnewsents. If you have a story suggestion email entertainment.news@bbc.co.uk.