Let the gunge flow! Saturday morning kids' TV goes live again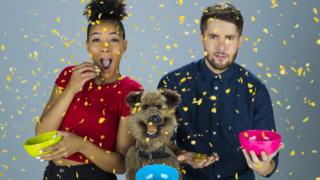 The hosts of the BBC's new live Saturday morning children's TV show are promising to bring back the giddy chaos of classic shows like Going Live! and Live and Kicking.
"It's going to be an absolute zoo on set, and I don't think anyone, including ourselves, is ready for what's going to happen."
Yasmin Evans is speaking less than two days away from co-presenting two hours of silly games, sillier sketches, celebrity interviews, viewer phone-ins and cartoons on Saturday Mash-Up! on BBC Two and CBBC.
With a script on the table in front of her but without a full rehearsal until the day before she and co-host Jonny Nelson go live, the pair are dizzy with seat-of-your-pants anticipation.
"Being too prepared, especially when it's a live show – I don't think that's the right way to do it," Evans says. "Well it had better not be, because I'm not!"
As the BBC 1Xtra DJ and soon-to-be children's TV star lists the features that will be in Saturday Mash-Up!, Nelson chips in with an essential ingredient: "Anarchy."
"Anarchy," Evans repeats, before adding: "A lot of gunge."
If that formula sounds familiar, you're probably old enough to fondly remember Saturday morning TV of yesteryear – from Multi-Coloured Swap Shop through Saturday Superstore, Going Live, Live & Kicking, The Saturday Show, Dick and Dom in Da Bungalow and TMi.
ITV went from Tiswas to SM:TV Live via the Wide Awake Club, but it's a decade since the Saturday morning zoo TV format was finally abandoned.
"I like the anarchy thing," Nelson continues. "Because it's live, and event-type TV hasn't been done for so long. Not like this. I think it's going to give them [the viewers] something very different to what they're used to."
---
Classic BBC Saturday morning children's TV
The Multi-Coloured Swap Shop (1976-82)
Saturday Superstore (1982-87)
Going Live (1987-93)
Live & Kicking (1993-2001)
The Saturday Show (2001-05)
Dick and Dom in Da Bungalow (2003-06)
TMi (2006-09)
---
There is one presenter missing from our interview – Hacker T Dog, who Evans and Nelson admit is more experienced than both of them, and who is likely to provide the biggest dose of anarchy.
Before Hacker T Dog, there was Going Live's Gordon the Gopher and of course Spit the Dog from Tiswas, and the new show unashamedly harks back to what made those older shows so well-loved.
The first thing Evans did when she found out she got the presenting job, she says, was to turn to YouTube to watch 45 minutes of Wonky Donkey – Ant and Dec's crazed phone-in game show from SM:TV.
Evans says the new show will have a game that she describes with some pride as "Wonky Donkeyesque".
For Nelson, he went back and watched lots of Live and Kicking, whose host pairings included Jamie Theakston and Zoe Ball, which he said "got me excited, but it also made me understand the scale of how important this is".
With hours to fill with riotous games and unpredictable guests and callers, the best bits often came when things didn't go to plan and the presenters had to somehow muddle through while attempting to suppress laughter.
"Those are the elements that we remember certainly from our childhoods," Nelson says. "A lot of the time you tuned in because it was going to be mad.
"You didn't know what Jamie Theakston, Zoe Ball or Ant and Dec were going to do on that morning – who was going to make the other one laugh, or who was going to get their lines wrong, or what bit of the set's going to fall down, or what someone on the phone's going to say.
"I think the second the first thing goes wrong on the show and we style it out, God willing, that's going to be quite a relief."
Evans and Nelson may not have had much rehearsal time, but they do already have the warmth of old friends, and with their infectious mix of nerves and enthusiasm it's not hard to imagine one or both dissolving into giggles as another piece of the set topples over.
But can the formula appeal to a young generation of viewers?
The reason that was always given for the disappearance of live Saturday morning TV was that kids today have so many other channels to choose from, and so many devices, so it could no longer be the focal point that it once was.
Phillip Schofield, who was Going Live!'s ringmaster in the late 1980s and early 90s, recently told BBC 5 live that if they tried to do the same programme today it would make for "a very different show".
"It would be a lot faster, it would be a lot cooler, it would be absolutely alive with social platforms," he said on 5 Live's I Was There.
"If I'm honest, I'm very glad that that was my time because I still think of those as the glory days of TV, when there were less channels, and people had more time, and they were less likely to get bored, and they'd give you the benefit of doubt on something but stick with you.
"It was harder to click off and click on to something else. The pressure I think would be immense now."
Saturday Mash-Up!'s hosts and producer stress that they are bringing the format up to date – taking some ideas from the heyday and adapting them for the pace and technology of modern life.
"Television as a whole is a lot faster than it was 20 or 30 years ago," says series producer Jamie Wilson. "Life is faster isn't it?
"An interview on Going Live might have been 12 minutes, whereas an interview on our show might be four minutes or five at a push."
Some ideas haven't grown old, though. "I think the idea of phoning in and chatting to your idol is just as exciting now," Wilson says.
"There are some really timeless ideas within those old formats that we're keen on, but there's a big dose of new stuff, like the digital interaction that just didn't exist in the 80s and 90s."
He rightly points out that, in today's fragmented media market, live event shows like Strictly Come Dancing and Ant and Dec's Saturday Night Take Away have managed to remain some of the biggest fixtures on TV.
"Saturday mornings always had that kind of feel," Wilson says. "There's something for everyone, and it was a real 'in the moment', live, exciting place to be.
"So I'm not sure why it went away in the first place, but it definitely felt it was just as relevant, and will hopefully be just as entertaining now."
Saturday Mash-Up is on BBC Two and CBBC from 09:00-11:00.
---
Follow us on Facebook, on Twitter @BBCNewsEnts, or on Instagram at bbcnewsents. If you have a story suggestion email entertainment.news@bbc.co.uk.