Kiri gets rave reviews – but social workers criticise plot
Spoiler alert: Contains plot details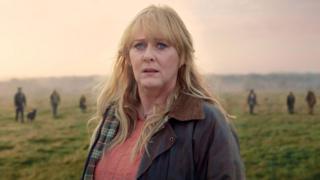 Sarah Lancashire's new drama Kiri has received rave reviews – but some social workers are less impressed about how their profession was portrayed.
The four-part Channel 4 series focuses on social worker Miriam Grayson and nine-year-old Kiri, who disappears on an unsupervised visit she arranges.
But some said they were "disappointed" at aspects of its plot.
Channel 4 said "extensive background research" was carried out and that social workers were consulted.
Kiri, written by Jack Thorne – who was also behind Robbie Coltrane's National Treasure – was also accused of not portraying social work in a positive light.
In it, Miriam – played by Happy Valley actress Lancashire – is seen drinking early in the morning before driving, paying an informal visit to a previous client and bringing her dog to work.
She then takes Kiri from her foster parents for the visit to her grandparents before her adoption goes through. But while there, she is abducted by her birth father.
Consultant social worker Ingrid Richardson asked broadcasters to make television dramas about social work "showcasing positive stories, relationships and outcomes – they are real, they do happen".
Some also commented that Miriam would have been sacked.
However, some also argued that it was not meant to be factually representative of the reality of social work.
A Channel 4 spokesman said Kiri was a "complex and entirely fictional" drama, with "fully-drawn, three-dimensional figures, each with their own human flaws and personal difficulties".
He said: "The drama explores, among other topics, the vast pressures placed upon social workers and the very difficult job they do.
"Extensive background research was undertaken to ensure the themes explored within the drama were accurately and authentically portrayed and social workers, various departments within the police and charities were all consulted during the scriptwriting and development stages."
'Riveting' drama
Critics were impressed by the first episode.
Chitra Ramaswamy, writing in The Guardian, said it was "beautifully observed and not-as-grim-as-expected".
"Kiri is full of clever scenes that gently tease out the knotty tangle of intersectional themes – race, class, social care – without threatening to strangle," she said.
The Telegraph's Patrick Smith gave it four stars, praising Jack Thorne's "nuanced" writing.
"It was riveting," he enthused. "Far from relying on soothing moral platitudes, Thorne's script was a complex study of human frailty, concerned with raising difficult but vital questions."
Christopher Stevens awarded it the same rating in the Daily Mail, saying Felicia Mukusa played Kiri with "confident aplomb".
Sarah Lancashire's role as Miriam will "propel her towards national treasure status", Ellie Harrison predicts in the Radio Times, adding that she has "some excellent lines".
"Thorne is one of the most thought-provoking dramatists in the country," she added.
Follow us on Facebook, on Twitter @BBCNewsEnts, or on Instagram at bbcnewsents. If you have a story suggestion email entertainment.news@bbc.co.uk.