Jhalak Prize: The initiative championing BAME writers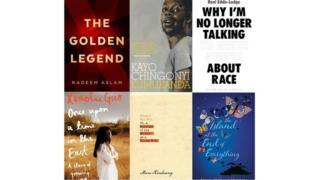 A literary prize for British black, Asian and minority ethnic (BAME) writers is looking to combat the "abysmal" lack of diversity in the publishing industry.
The co-founder of the Jhalak Prize, Sunny Singh says she set it up in 2016 to celebrate contemporary British or British resident writers of colour.
A writer and academic, Singh began examining the British publishing industry six or seven years ago.
She says she found it "more horrific and grotesque than I had imagined" – very few people of colour had published books and even fewer were employed in the marketing or editorial divisions of the industry.
"What's very clear is that there have been consistently great writers of colour in this country who have been consistently ignored and consistently looked over.
"If publishers don't know who to publish and don't have the capacity of deciding beyond the cliches, then hire more people of colour. It's as simple as that."
Writing the Future, a 2015 report, indicates about 8% of British publishing staff are from a BAME background.
And Singh says large publishers in particular often struggle to spot talent or market books by people of colour because their internal structures aren't diverse enough.
"It's a structural issue and needs disruption on multiple levels. That disruption can only happen from the big publishers themselves."
The first Jhalak Prize was won by Jacob Ross's book, The Bone Readers, published by Peepal Tree Press.
He says: "What the prize has helped me to do, interestingly enough, is to bring the awareness of the book to a much wider readership – not just people from different cultural spaces.
"I'm talking about the mainstream – the dominant population."
He says publishers tend to filter out works from different backgrounds under the impression the public will not read them.
"The Jhalak Prize is an argument against that on account of a massive readership. They are just not being given access to those books.
"It is more than a prize, it's an argument. It's part of a debate, it's an intervention."
Race-blind
However, the prize has had its critics.
Last year, Conservative MP Philip Davies filed a complaint against the Jhalak Prize to the Equality and Human Rights Commission (EHRC), claiming it was discriminatory towards white writers.
He says readers are "race-blind".
"The race of an author doesn't matter when reading a book. If a book is good, it'll get published. I doubt that if JK Rowling was black no-one would have touched Harry Potter with a bargepole."
He also says the EHRC is "hopeless" and a "pointless organisation… happy to discriminate against white writers".
The EHRC investigated the prize last year, and said it was the kind of initiative it would support.
Since the prize's launch, some publishers have taken some steps to encourage more BAME writers.
Penguin Random House's WriteNow scheme seeks to find, mentor and publish writers from under-represented communities, while it also offers a six-month paid internship for BAME candidates looking to enter the publishing industry.
A Penguin Random House representative said 13.6% of the new workers it had employed in 2016 were people of colour, which it said mirrored the ethnic make-up of the UK population.
Meanwhile, Singh says she hopes the prize will encourage more publishers to take action and promote diversity.
She says the UK's publishing industry is in a "terminal decline" and the readership numbers are dropping.
If publishers were reaching out to underserved demographics such as young people, ethnic minorities and the working class, it could help the industry as a whole, she says.
And the Jhalak Prize has created a real sense of solidarity and belonging among writers and staff in the publishing industry, across the spectrum of those who identify as people of colour.
"I never started out to be an activist. But looking at the state of the industry, we've all got to take a stand. The Jhalak Prize is mine. This is my stand saying, 'This is unacceptable.'"
This year's winner will be announced later on Thursday.