Jeffrey Tambor accused over 'physical' behaviour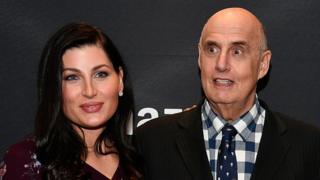 Transparent actor Jeffrey Tambor has said he is "not a predator" after a transgender actress on the show claimed he "got physical" with her on set.
Trace Lysette, who plays yoga teacher Shea on the Amazon show, claims Tambor pressed against her and made "quick, discreet thrusts back and forth".
Tambor said he was "deeply sorry if any action… was ever misinterpreted by anyone as being sexually aggressive".
He added: "For all my flaws, I am not a predator."
In a statement to the Hollywood Reporter, Lysette said Tambor had made "many sexual advances and comments at me" and his behaviour was "inappropriate".
During the alleged physical encounter, which she said took place during the filming of Transparent's second season, Lysette said she had "felt his penis on [her] hip through his thin pajamas [sic]".
"I pushed him off of me… laughed it off and rolled my eyes," she is quoted as saying.
In response, Tambor said he had been accused of behaviour "that any civilized person would condemn unreservedly".
He admitted he was not always "the easiest person to work with", adding: "I can be volatile and ill-tempered, and too often I express my opinions harshly and without tact.
"But I have never been a predator – ever. I am deeply sorry if any action of mine was ever misinterpreted by anyone as being sexually aggressive or if I ever offended or hurt anyone.
"But the fact is, for all my flaws, I am not a predator and the idea that someone might see me in that way is more distressing than I can express."
Amazon investigation
Tambor, 73, has won two Emmy Awards and a Golden Globe for his role as Maura Pfefferman, Transparent's transgender matriarch.
Amazon is already conducting an internal investigation after another transgender woman who worked as Tambor's personal assistant had revealed her employer – whom she did not directly name – had acted inappropriately.
In response, Tambor said any implication that he had acted improperly was "baseless".
The star, who has four children with his second wife, previously appeared as Hank Kingsley on The Larry Sanders Show.
He is the latest actor to be accused of sexual harassment.
Kevin Spacey, Sylvester Stallone and Dustin Hoffman are among those to be accused in the wake of the Harvey Weinstein allegations.
Follow us on Facebook, on Twitter @BBCNewsEnts, or on Instagram at bbcnewsents. If you have a story suggestion email entertainment.news@bbc.co.uk.