James Franco rejects Twitter harassment claims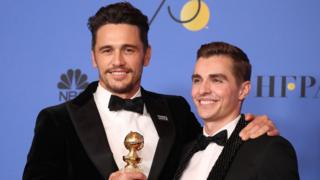 James Franco has dismissed claims of sexual harassment that were made against him following his best actor win at Sunday's Golden Globe awards.
Actress Ally Sheedy was among those to question his victory, in tweets that have since been deleted. "I have no idea why she was so upset," he said.
The star also said other claims made on Twitter were "not accurate".
The New York Times has cancelled an event to promote The Disaster Artist, the film that won him his Golden Globe.
Franco attended the Globes ceremony wearing a Time's Up pin on his label, signalling his support for an initiative aimed at combating sexual harassment in the film industry and other workplaces.
That prompted accusations of sexual misconduct against the 39-year-old actor and director on Twitter from actresses Sarah Tither-Kaplan and Violet Paley.
Sheedy, meanwhile, posted a series of cryptic tweets during the ceremony, one of which asked: "Why is James Franco allowed in?"
"James Franco just won," another of her now deleted posts read. "Please never ever ask me why I left the film/tv business."
'Total respect'
Appearing on Stephen Colbert's CBS talk show on Tuesday, Franco said he prided himself "on taking responsibility for things that I've done" and that he supported women coming forward.
"There were some things on Twitter, I haven't read them, I've heard about them," he said.
Franco said he had "no idea what I did to Ally Sheedy", the War Games and Breakfast Club star who he directed in an off-Broadway play in 2014.
"I have no idea why she was upset. She took the tweet down, I don't know, I can't speak for her," he continued.
"The others, look, in my life I pride myself on taking responsibility for things that I've done. I have to do that to maintain my wellbeing.
"I do it whenever I know that there is something wrong or needs to be changed. I make it a point to do it.
"The things that I heard that were on Twitter are not accurate, but I completely support people coming out and being able to have a voice, because they didn't have a voice for so long.
"So, I don't want to shut them down in anyway. It's, I think, a good thing and I support it."
Franco and his brother Dave had been due to appear at a New York Times-sponsored event in New York on Wednesday to discuss The Disaster Artist.
In a statement to The Hollywood Reporter, a spokesperson for the newspaper said it was "no longer comfortable proceeding… given the controversy surrounding recent allegations".
Franco won the Golden Globe for best actor in a comedy or musical for his role in The Disaster Artist, which details the making of notorious 2003 film The Room.
This year's ceremony saw several winners address Hollywood's sexual abuse scandal in their acceptance speeches.
Many attendees, meanwhile, opted to wear black to express solidarity with victims of sexual abuse and harassment.