Italy's state-owned broadcaster cancels 'sexist' talk show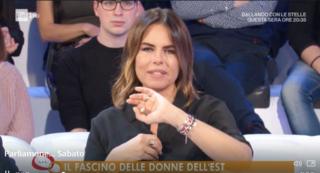 An Italian talk show is taken off air after issuing sexist advice on dating Eastern European women, the Grand Mosque in Mecca poses as the backdrop for a Turkish proposal, and a Ghanian footballer mistakenly thanks both his wife and girlfriend in an interview.
Italian talk show's dating tips slammed
An Italian state-owned broadcaster has taken a talk show off air after it listed 10 reasons to date Eastern European women, including that they are "always sexy" and "are perfect housewives".
The broadcaster Rai Uno/Rai 1 had earlier apologised for the transmission, which Italian President of the Chamber of Deputies, Laura Boldrini, described as "unacceptable" and "offensive".
The afternoon show "Let's talk about it… Saturday", which is "Parliamone… Sabato" in Italian, is hosted by Paola Perego.
In its latest edition, a panel of celebrities discussed reasons why Italian men "preferred" dating foreign women.
The TV show broadcast a graphic entitled "Reasons to choose an Eastern European girlfriend", which listed:
"1. They are all mums, but after giving birth they regain their figure
2. They are always sexy. No tracksuits or pyjamas
3. They forgive cheating
4. They are willing to let their man rule
5. They are perfect housewives. They learn all house works at young age
6. They don't whine or get clingy, and they never hold a grudge."
The image was widely shared and criticised on Italian social media and made headlines in newspapers La Stampa and Repubblica.
There were calls for the presenter to be suspended and an investigation launched.
"You get distracted a second and you find yourself in 1950," one Twitter user commented.
Some parodied the list, making their own version of reasons to date Italian men (some too explicit to list here).
Rai 1 Director Andrea Fabiano tweeted an apology: "Errors must be recognised without excuses. I apologise to everyone for what has been seen and heard at #Parliamonesabato."
The broadcaster's president, Monica Maggioni, said: "I feel personally involved as a woman, and I apologise… if this representation is given by the public service broadcaster, it is a crazy mistake, unacceptable."
"First, I apologise. Then, the company will try to understand how something like this could have happened."
---
A Grand (Mosque) proposal
It's not typically a location for grand romantic gestures.
But one man chose the Kaaba inside the Grand Mosque in the holy city of Mecca in Saudi Arabia to pop the question.
Yusuf Akyön, a correspondent for Turkey's state-run broadcaster TRT and the son of his country's former media attaché to the kingdom, proposed to the love of his life there.
In a video of the proposal, shared widely on social media over the weekend, Mr Akyön's girlfriend reportedly said she would only accept if he got down on one knee, to which he happily obliged.
The woman put the ring on while their family, standing nearby, congratulated them.
Some commended the couple for getting engaged in front of fellow Muslims in the "house of God".
"How beautiful for them to get engaged in the house of God, May God bless them in abundance," one user said.
But not everyone was quick to extend their well wishes to the couple.
One Twitter user said it was an "absolute disregard for the sanctity of the Grand Mosque". She continued: "This is a place for worship, not for engagements."
Another user said that going down on one knee to propose was the "Christian way".
Due to the criticism, Mr Akyön is said to have now taken down the footage of the proposal and his Twitter account appears to have been deactivated.
---
The footballer's faux pas
Ever had that sinking feeling when you've said something you really wish you hadn't?
Mohammed Anas, 22, probably has.
The Ghanian striker for South Africa's Free State Stars F.C. won "man of the match" following his team's Absa Premiership 2-2 draw with Ajax Cape Town on Friday, 17 March in the Athlone Stadium.
But after being given the accolade – usually given to a player who made the most impact in a game – Mr Anas made an embarrassing slip-up on live television, by thanking both the missus and the mistress.
In the short interview with South Africa's SuperSport, which has been viewed thousands of times this past weekend, he said: "I always wish to win one of these and I got it. So, thank you very much for giving me this.
"I appreciate my fans also…
"My wife and my girlfriend…I mean, my wife…sorry to say. I'm so sorry.
"My wife, Liesel, I love you so much, Aya, I love you so much from my heart."
And social media users didn't miss out on poking fun at the footballer for the gaffe.
While others wanted to inquire as to whether he was still alive after the supposed revelation.
One user responded to a tweet by the Free State Stars praising Mr Anas's performance: "Seems like his performance off the pitch also leading some other lines. #FreeStateCheaters ????"
"Mohammed Anas of @FreeStateStars made my weekend for thanking both his wife and girlfriend after he was chosen as man of the match," another added.
By the UGC and Social News team; Additional reporting by Thomas Fabbri and BBC Monitoring's Middle East team