HIGNFY 'too vicious' for women – Nadine Dorries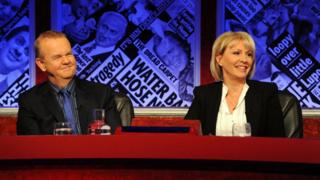 MP Nadine Dorries says Have I Got News For You is "too vicious" for most female guests, and does not "lend itself to women feeling comfortable".
Ms Dorries appeared on the BBC panel show in 2012 – but said she has turned down all further offers.
She was speaking after team captain Ian Hislop said female politicians were "more reticent" to be the guest host.
Ten male politicians have sat in the host's seat, but Anne Widdecombe is the only female politician to have done so.
Ms Dorries said: "I just don't think Have I Got News For You is a programme which lends itself to women feeling comfortable. I find it too vicious.
"I know people like that. That's why they love the programme – it's so successful. I just find it too vicious, too abrasive.
"It's all about banter – women don't banter in that way, or very rarely. You might get the odd woman who would, but most women don't banter in that way, don't have that degree of aggression."
'Scoring points by belittling you'
The Conservative MP for Mid Bedfordshire said her agent had turned down all offers from the show after her original appearance, and she wasn't sure whether any of those had been to host.
Politicians were normally invited after some controversy, when "the only reason they're asking you is to shred you", she added.
"And why would you put yourself up for that? Whereas, men don't seem to mind being shredded most of the time."
The MP, who also appeared on I'm A Celebrity… Get Me Out Of Here! in 2012, said she does appear on programmes where "the debate is fair and the host is fair and it's not just for someone to score points off you by belittling you".
She said: "Women don't like that – women see that as a naturally unjust and unfair way to treat someone even for laughs, whereas I think men think that's fair game."
Her comments come after Hislop and fellow team captain Paul Merton told Radio Times magazine the producers had tried to get more female politicians on the show.
'Everyone has been asked'
Merton said: "The producers always ask more women than men. More women say no."
He added that "right from the early days, that's been the case".
Hislop said: "And everyone you think should have been asked has been. Really, they really have."
Boris Johnson, Ed Balls, Nick Clegg, John Prescott and William Hague are among the male politicians who have filled the host's seat over the years.
A number of female presenters and comedians have done so too, including Jo Brand, Victoria Coren Mitchell and Kirsty Young.
The show returns on Friday for a 55th series, with Jeremy Paxman in the hot seat.
Hislop told Radio Times: "There was a period when people said, 'Why haven't you had French and Saunders on? Why haven't you had the following people?'
"And you say, 'Well, it's not compulsory.' And on the whole, women are slightly more reticent and think, maybe modestly, 'I can't do that.' Maybe more men in public life say, 'Yes, I can do that."'
Merton said his "worst experience" on the comedy show was when Ann Widdecombe returned to host for a second time, in 2007.
Ann's 'Arrogance'
He said the former prisons minister was "telling the producer what jokes will and won't work" after seemingly gaining confidence following her first presenting stint.
He added: "She turned to me at one point and said, 'Come on, be amusing; that's what you're being paid for.' Even as I say it, it sends a shiver through my heart.
"It's like, the arrogance of the woman, you know? Suddenly she thought she was Victoria Wood."
In 2012, writer Caitlin Moran said she had turned down "all the big panel shows", saying it is "a boys' game that works for boys".
She said: "It's not like they built it to screw women over, it's just that boys built it so they made it to work for boys. If I go on there as a token woman, it's not going to work for me."
Follow us on Facebook, on Twitter @BBCNewsEnts, or on Instagram at bbcnewsents. If you have a story suggestion email entertainment.news@bbc.co.uk.