Harvey Weinstein 'offered $1m' silence money to Rose McGowan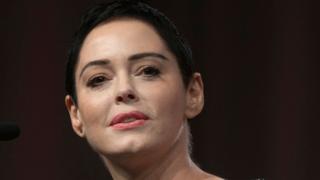 Actress Rose McGowan says she was offered $1m (£760,000) from Harvey Weinstein in exchange for her silence.
McGowan says she turned down the money the day before the New York Times ran an expose on the movie mogul.
She told the paper through her lawyer that someone close to Weinstein said she could have the money if she would sign a non-disclosure agreement.
McGowan is one of several women to accuse Weinstein of rape. He denies all allegations of non-consensual sex.
The original expose story, published on 5 October, was followed by multiple allegations from dozens of women accusing the Hollywood producer of sexual harassment and assault.
The New York Times's original story alleged that McGowan had reached a $100,000 (£76,000) settlement with Weinstein following an incident in a hotel room during the 1997 Sundance Film Festival.
She later accused Weinstein on Twitter of raping her before confirming her allegations to the The Hollywood Reporter.
In this weekend's New York Times story, McGowan says she learned over the summer that her original $100,000 settlement did not include a confidentiality clause.
It was in late September this year that the $1m offer allegedly came from the Weinstein camp and she spent several days considering it before turning down the deal the day before the New York Times story broke.
"I had all these people I'm paying telling me to take it so that I could fund my art," McGowan told the newspaper.
She then said she went back and asked for $6m (£4.5m) but later told her lawyer to pull the offer.
"I figured I could probably have gotten him up to three (million dollars)," she said.
"But I was like – ew, gross, you're disgusting, I don't want your money, that would make me feel disgusting."
Follow us on Facebook, on Twitter @BBCNewsEnts, or on Instagram at bbcnewsents. If you have a story suggestion email entertainment.news@bbc.co.uk.