Han Solo: A Star Wars Story – What we learned from the trailer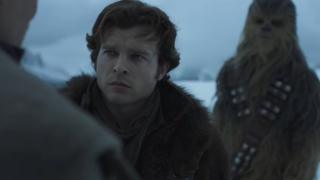 Star Wars fans have a new trailer to get stuck into with the latest footage from Solo: A Star Wars Story being released.
It reveals the role Emilia Clarke's character Qi'Ra plays in Han Solo's origin story, as well as giving fans more of Donald Glover as smuggler Lando Calrissian.
There's also a hint of a love interest for Chewbacca and a glimpse of Thandie Newton's mysterious character Val.
Here's what we found out.
1. What's happened to the Millennium Falcon?
Can you spot what looks different about the Falcon? That big gap that's usually on its front appears to be missing. Interesting.
2. Lando Calrissian is set to be a fan favourite
It was always going to be the case, but Donald Glover stole the show for many fans in the latest Solo trailer.
The Atlanta star plays a young Lando Calrissian, who's dubbed the "best smuggler around".
Fans have gone a bit wild for the actor online – with his scenes slightly overshadowing those involving Han (Alden Ehrenreich).
3. Chewie gets a love story
Superfans will be aware of a little-mentioned Star Wars film, the Holiday Special, which sees Chewie returning to his home planet where he has a wife and kids.
A very brief moment in the trailer shows what looks like a loving moment between Chewbacca and a mystery wookiee – who some people reckon could be his wife, Malla.
Either way, it's about time Chewie got a love interest.
4. It looks like a heist film
This trailer, likely to be the last ahead of the film's release on 25 May, has given a clearer picture about what the film is likely to portray – and it looks strikingly similar to a classic heist movie.
We see Han being recruited by Woody Harrelson's Tobias Beckett, who's putting together a crew with Emilia Clarke's Qi'Ra.
"I've got a really good feeling about this," Han says at one point in the trailer – a nod to the pilot's famous line in the original films.
5. Is Qi'Ra the villain?
That's definitely what fans are speculating.
"Assume that everyone is going to betray you," Woody's character says before the shot cuts to Qi'Ra, who grew up in the same place as Han.
It's led to a lot of excitement from fans of Emilia Clarke, who are so ready to see her portray a villain.
We know that one of the villains in the Solo movie will be Enfys Nest, a masked woman, but we know little else about her other than that.
Luckily for Star Wars fans there's only a little over a month left until we find out.
Follow Newsbeat on Instagram, Facebook and Twitter.
Listen to Newsbeat live at 12:45 and 17:45 every weekday on BBC Radio 1 and 1Xtra – if you miss us you can listen back here.