Game of Thrones Arya among 200 most popular names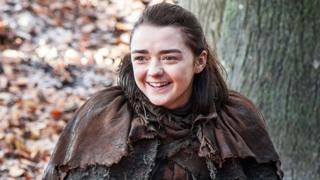 Baby names are becoming increasingly adventurous – often inspired by characters and figures from the world of entertainment.
More than 300 girls born in England and Wales last year were named Arya, sharing their name with the well-known Game of Thrones character.
That's more than the number of children who received traditional names like Mary (204) and Catherine (163).
Another name from the HBO series growing in popularity is Khaleesi.
There were 69 girls born last year with the same name as the would-be Queen of Westeros, according to figures for England and Wales from the Office for National Statistics (ONS).
More Game of Thrones names on the list include Tyrion (11), Sansa (5), Daenerys (4) and Brienne (3). No children were given the name of the evil character Joffrey.
Other names from the world of myth and legend are also becoming more commonplace, with 90 boys being called Loki, presumably because of the popularity of the Marvel villain played by Tom Hiddleston.
But his brother Thor only shares his name with 18 boys born in 2016.
The parents of some of the 16 boys named Kal-El could well be fans of Superman – Kal-El is the real name of the superhero from Krypton.
The return of Star Wars in 2015 may have influenced some name choices. Last year, 54 boys were called Kylo, and 17 girls were named Rey.
In addition 12 boys were given the name Anakin, the real first name of Darth Vader.
The name Hermione, now most associated with Harry Potter, also makes the list, with 95 girls sharing their name with Harry's intelligent, loyal friend.
The name peaked in 2004 when the popularity of the Harry Potter books and films was at its height.
It's possible that this year's spike is related to the 2016 launch of the hugely successful West End stage show, Harry Potter and the Cursed Child.
And following the death of one of entertainment's best known figures at the start of last year, there's been an increase in the number of children (seven girls and 35 boys) being named Bowie.
---
Follow us on Facebook, on Twitter @BBCNewsEnts, or on Instagram at bbcnewsents. If you have a story suggestion email entertainment.news@bbc.co.uk.