Footloose to be preserved for posterity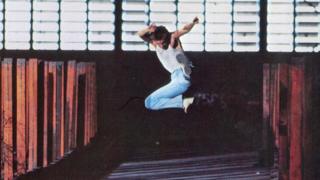 Kick off your Sunday shoes… Footloose is about to enter the US National Recording Registry, which preserves records of great cultural significance.
Kenny Loggins' classic is one of 25 recordings selected for recognition this year, alongside Chic's Le Freak and Fleetwood Mac's Rumours album.
Footloose, taken from the movie of the same name, was a global smash in 1984.
"It's almost like the national anthem," Loggins once said, "because you've got to get up to dance when it's on".
"I've got no problem with that. For me in my career, it's my Johnny B. Goode."
The National Recording Registry, which is held by the Library of Congress, now comprises 500 titles.
Recordings must be at least 10 years old before they become eligible for the registry.
The choices are not limited to music (a Groucho Marx concert is amongst this year's additions) and anything from a single song to an entire album is considered – as long as it is "culturally, historically, or aesthetically important".
Others added this year include Bill Haley's rock and roll standard Rock Around the Clock, Tony Bennett's I Left My Heart in San Francisco and The Temptations' My Girl.
"I'm totally overwhelmed by My Girl receiving such an honour," said Smokey Robinson, who co-wrote the Motown classic.
"As a songwriter, it has become my international anthem. People in countries where English is not the primary language know and sing My Girl when I perform it."
Run DMC was also admitted to the registry for their 1986 album Raising Hell, which included the hits Walk This Way and My Adidas.
"For a rap artist to be put on the same level as these other great artists is truly a massive honour," Rev Run told the LA Times.
"I had to ask my manager two times if this was for real."
While many of the songs selected for the registry are global hits, others are more significant for their cultural impact.
How I Got Over, for example, was written in 1951 by US gospel singer Clara Ward after she and her sisters were surrounded and subjected to racist taunts on their way to a gig in the segregated South.
It later became a standard, and an anthem to the civil rights movement, and has been covered by the likes of Mahalia Jackson and Aretha Franklin.
The experimental (and now practically unlistenable) 1967 album New Sounds In Electronic Music helped pave the way for avant-garde recording techniques, in a similar vein to the work of the BBC Radiophonic Workshop in the UK.
There are also spoken-word recordings and noteworthy newscasts, including NBC Radio's coverage of the gathering in San Francisco that led to the creation of the United Nations.
But perhaps the most esoteric addition comprises 200 wax cylinders, capturing members of the Sioux Yankton-Dakota tribe in 1928, giving recitations and singing tribal songs.
The full list of recordings added to the registry this year is:
Dream Melody Intermezzo: Naughty Marietta – Victor Herbert and his Orchestra (1911)
Standing Rock Preservation Recordings – George Herzog and Members of the Yanktoni Tribe (1928)
Lamento Borincano – Canario y Su Grupo (1930)
Sitting on Top of the World – Mississippi Sheiks (1930)
The Complete Beethoven Piano Sonatas – Artur Schnabel (1932-35)
If I Didn't Care – The Ink Spots (1939)
Proceedings of the United Nations Conference on International Organization (April 25, 1945 to June 26, 1945)
Folk Songs of the Hills – Merle Travis (1946)
How I Got Over – Clara Ward and the Ward Singers (1950)
(We're Gonna) Rock Around the Clock – Bill Haley & His Comets (1954)
Calypso – Harry Belafonte (1956)
I Left My Heart in San Francisco – Tony Bennett (1962)
King Biscuit Time (radio) – Sonny Boy Williamson II and others (1965)
My Girl – The Temptations (1964)
The Sound of Music (soundtrack) – Various Artists (1965)
Alice's Restaurant Massacree – Arlo Guthrie (1967)
New Sounds in Electronic Music – Steve Reich, Richard Maxfield, Pauline Oliveros (1967)
An Evening With Groucho – Groucho Marx (1972)
Rumours – Fleetwood Mac (1977)
The Gambler – Kenny Rogers (1978)
Le Freak – Chic (1978)
Footloose – Kenny Loggins (1984)
Raising Hell – Run-DMC (1986)
Rhythm Is Gonna Get You – Gloria Estefan and the Miami Sound Machine (1987)
Yo-Yo Ma Premieres: Concertos for Violoncello and Orchestra – Various Artists (1996)
Follow us on Facebook, on Twitter @BBCNewsEnts, or on Instagram at bbcnewsents. If you have a story suggestion email entertainment.news@bbc.co.uk.