Flatliners: Is the remake any good?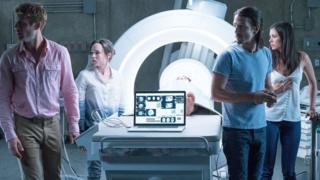 It's not usually a good sign when critics aren't allowed to see a film before its release.
Often, it's a way to hush up bad reviews to make sure the public haven't read any negative press before deciding whether to part with their cash.
Flatliners, a remake of the 1990 film of the same name, is one such film which wasn't screened for critics before its release last Friday.
It stars Ellen Page and James Norton – with Kiefer Sutherland (who appeared in the original) even making an appearance.
The film tells the story of a group of medical students who attempt to create a near-death experience in order to experience the afterlife.
'Surprisingly gutless'
Unfortunately, most critics said the film should not have been resuscitated.
"An artless and agonisingly boring remake of a semi-forgotten movie about the dangers of bringing things back from the dead," is how IndieWire's David Elrich delicately described it.
He added that the film was "damning proof that an incongruously high-profile cast still can't save a grimy studio movie from feeling like generic trash".
Eek.
Tasha Robinson wrote in The Verge: "The new Flatliners' problem is that fatal lack of escalation, of rising stakes or the characters being cornered.
"The filmmakers could have saved it by using its sequel status to up the ante, and move the story somewhere new."
Writing in The Hollywood Reporter, John DeFoe said Flatliners was "often indistinguishable from its 2017 thriller peers".
He added: "Hustled into theatres with plenty of advertising and no critics' screening, it clearly hopes to recoup some cash before audiences tweet their disappointment."
He said viewers will "wonder why, nearly three decades later, the plot's semi-intriguing premise couldn't be put to less daffy use".
The film held a 0% rating on reviews aggregator Rotten Tomatoes over the weekend, but the score was bumped up to 3% after a more positive review in Australia's Daily Telegraph.
Vicky Roach praised the "well-matched ensemble" in her three star review, adding: "The new version also nails the horror elements."
"Flatliners' main problem is its resolution," she continued.
"Having set up a daring, provocative premise – in which a bunch of cocky, self-entitled medical students think they can cheat death without any lasting consequences – the filmmakers reveal themselves to be surprisingly gutless."
Variety managed to find some positives, with Andrew Barker writing: "As dull as it gets, Flatliners never sinks all the way into outright fiasco, and there's enough talent both behind and in front of the camera to keep things on the right side of basic competence."
Writing in The New York Times, Glenn Kenny said: "This film did not screen for critics, nor was it previewed in New York theatres on a Thursday night, as is usually customary with studio pictures."
"I imagine Columbia understood that it had something arguably worse than a dog on its hands. This Flatliners is in fact a new definition of 'meh'."
At the US box office, the film took $6.7m (£5.04m) over the weekend, making it the fifth most popular film behind It, American Made, Kingsman: The Golden Circle and The Lego Ninjago Movie.
The UK figures will come out later in the week.
---
Follow us on Facebook, on Twitter @BBCNewsEnts, or on Instagram at bbcnewsents. If you have a story suggestion email entertainment.news@bbc.co.uk.