Emin's 'unmade bed' on display in hometown of Margate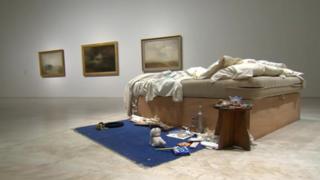 One of Tracey Emin's most famous contemporary works of art is going on display in her hometown in Kent.
Her unmade bed, created in her London council flat in 1998, features stained sheets, cigarette packets, discarded condoms and soiled underwear.
It was shortlisted for the Turner Prize the following year and was sold at auction for £2.2m in 2014.
My Bed can be seen at the Turner Contemporary art gallery in Margate from Friday until 14 January.
The controversial piece, which sparked public debate about the nature of contemporary art when it was shortlisted for the Turner Prize, gives a snapshot of Emin's life when she was depressed after the breakdown of a relationship.
Speaking on Thursday as she put the final touches to the bed, Emin said it felt as though she was "holding hands with a ghost, or holding hands with my past" because so much of her life had changed since 1998.
"It's so strange. There's been stages where parts of it are my life and then I've really kind of let go now," she said.
Citing a belt lying amongst the items on display, Emin said: "That was the size of my waist, It's now the size of my thigh."
My Bed was bought at auction by German industrialist Count Christian Duerckheim, who agreed to loan it to the Tate "for a period of at least 10 years".
It will be on display alongside a collection of the artist JMW Turner's seascapes and stormy skies, also loaned from Tate's collection and chosen by Emin.