Dotty is leaving BBC Radio 1Xtra after six years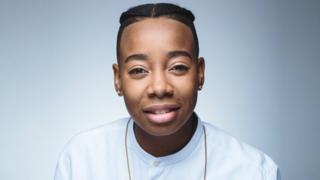 Dotty has announced she's leaving BBC Radio 1Xtra after six years.
The DJ told listeners her departure will be at the end of July, and that she "wanted to end on a high note".
"This week marks my four year anniversary on The 1Xtra Breakfast Show and it has been the most incredible experience of my life," she said.
She added: "After almost 1,000 early mornings, I think it's finally time for me to turn off my alarm clock and rest."
Dotty, whose real name is Ashley Charles, first arrived at the station in 2014 and has since hosted a number of shows from the Saturday 4-7pm show to the weekday 1-4pm slot before getting the breakfast gig.
In July 2016 she took over the reins of The 1Xtra Breakfast Show – being the first solo female to host the show in the station's history.
In that time since she's interviewed the likes of Will Smith, Stormzy and Lupita Nyong'o.
And earlier this year Dotty won best music breakfast show at the Radio Academy awards.
She announced: "I'm sitting here after six years and I feel like I climbed to the top of the mountain.
"With love in my heart and a bit of a lump in my throat it is time to say goodbye to 1Xtra."
Greg James, who presents the Radio 1 Breakfast Show from a few studios away, says he's "sad" to see Dotty go.
Dotty's last show will be on Thursday 30 July, with the station currently auditioning for who will take over.
Her producer Robby Williams, with whom she hosts the podcast Too Rude for Radio, is also leaving the station.
Nadia Jae will take the reigns while a replacement is found.
Mark Strippel, Head of Programmes at 1Xtra, says: "Dotty is an incredible and unique talent and will always be part of the 1Xtra family.
"I speak on behalf of everyone at the station when I say that we'll miss her loads, and thank her for every ounce of passion and commitment she has put into 1Xtra!"
There have been a number of standout moments over the past few years that have led to Dotty's show being crowned the best music breakfast show in the country.
Some of those have been the interviews she's conducted – with two in particular standing out.
"I wanna talk to you about something which… I wasn't sure I was going to ask you about," Dotty said to Stormzy on the morning his latest album, Heavy Is The Head, was released.
She was talking about Stormzy's break-up with Maya Jama, and it led to an honest conversation that Stormzy might not have been so comfortable having with another presenter. At one point they both looked close to tears.
On the other end of the spectrum was the interview with Wiley last year where the grime godfather blasted Ed Sheeran as a "culture vulture".
It again probably wouldn't have been so raw – and hilarious – had somebody else conducted the interview. Dotty was able to challenge Wiley because of the relationship they have.
Along the way have also been repeat interviews with the likes of Kevin Hart, and chats with The Rock, Oprah Winfrey, Ellen DeGeneres, Janet Jackson and Jorja Smith.
And regular features like Trashbag Tuesday – where Dotty gives a monologue about something that's been getting on her nerves and puts it in the bin – have helped propel the 1Xtra Breakfast Show to its highest-ever listening figures.
Her presenting style could probably be best summed up in a quote she gave the BBC a few years ago.
"When I first started on radio, I wasn't trying to be like any other presenter. I wanted to be the anti-presenter.
"So where your traditional presenter would say, 'wasn't that a brilliant song', I'd rather be the person that says, 'well, that song is six out of 10' – you know, just be honest. And I thought maybe my thing can be that I'm honest, and say what people are thinking."
Follow Newsbeat on Instagram, Facebook, Twitter and YouTube.
Listen to Newsbeat live at 12:45 and 17:45 weekdays – or listen back here.