Dick Whittington panto jokes 'too smutty' for children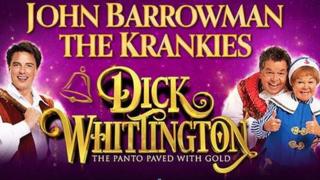 A mum has called for a "lewd and offensive" pantomime starring the Krankies and former Doctor Who star John Barrowman to be axed.
Natalie Wood has made an official complaint about Dick Whittington at Manchester Opera House, saying it was "too smutty" for children.
During the show, she said, Barrowman fondled co-star Janette Krankie's breasts, and also invited audience members to chant "Alice loves Dick".
The venue said no offence was intended.
'Finger through flies'
Ms Wood, who attended the show with 10 family members – including six children aged three to 12 – told the BBC the show crossed the line from innuendo to "raw" vulgarity.
Among the moments she took issue with was one where Wee Jimmy Krankie, played by Janette Krankie, poked her finger out of her trousers, emulating a penis.
"The main issue for us was the actual fondling of Jimmy Krankie's breasts and all the different cheap smutty jokes," she said.
"Normally we share the jokes from the show afterwards – these kind of jokes you would have to discourage the children from repeating and or acting out," she said.
In her letter, she said her children had copied some of the jokes in the show.
"My children were repeating Alice loves Dick and sticking their fingers out of their trousers for a pretend penis throughout the evening.
"This is not acceptable and my children required far too much explaining about adult humour for a family show."
Promoters Qdos Entertainment said: "In-keeping with the tradition of pantomime, the script does make use of double entendre and part of that is a play on the names of the characters.
"None of the humour within the show is intended to cause offence of any kind."
Pantomime authority Roy Hudd, who has starred, written or directed in more than 50 festive productions, said there was a place for innuendo but they "should be aimed at the children".
"You cannot do rude jokes, my yardstick for writing gags is Laurel and Hardy or Dad's Army who made adults and children laugh," he said.
You might also like:
The Krankies – husband and wife team Ian and Janette Tough – made their name as children's TV stars in the 80s on BBC TV's Crackerjack.
Now semi-retired, the pair still appear in pantomimes, and have previously joined Barrowman, who came to fame in Doctor Who as Captain Jack Harkness and spin-off series Torchwood, on stage.