Dappy arrest: Former N-Dubz star held over knife threat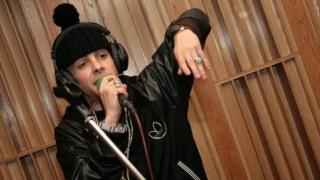 The former N-Dubz star Dappy has been arrested after allegedly threatening a woman and carrying a knife in public.
Armed police were called to an altercation between a man and woman in a residential street in Hatfield, Hertfordshire on Wednesday afternoon.
Costadinos Contostavlos, who performed as Dappy and appeared in Celebrity Big Brother, was arrested in College Lane.
Police said a 29-year-old was being held on suspicion of assault and possession of a knife in public.
Live: For more on this and other Hertfordshire stories
Hertfordshire Constabulary said: "The man threatened the woman before leaving the scene. It is believed he had a knife. No one was seriously injured."
'Students came to her aid'
A neighbour who did not wish to be named said he believed a group of students had been trying to help the woman.
"I only saw the aftermath," he said. "There was an incident, a guy and a woman. Three or four students came to her aid.
"I got that information from one of the students involved in it – he was standing outside and he explained what had happened.
"Ten police cars turned up outside and they were out there for getting on a hour.
"At one point there were three or four armed police men standing at the door with one of them shouting instructions through the open door.
"One went in with two backing him up and one on the driveway was crouching behind a car."
Dappy remains in custody.