Bucks Fizz star Jay Aston 'positive' after cancer surgery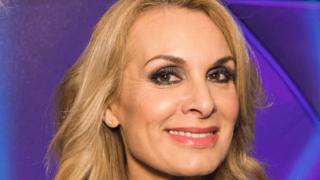 Bucks Fizz star Jay Aston is "awake and responding well" after a seven-hour operation to treat mouth cancer.
The singer, who scored number one hits with Making Your Mind Up and The Land of Make Believe in the 80s, had part of her tongue removed during the surgery.
Her husband Dave Colquhoun confirmed the 57-year-old was making a quick recovery.
"She knows you're all thinking about her and is being very brave," he told fans, via Jay's bandmate Cheryl Baker.
"Jay's recovery is all looking positive," he continued. "She moved from intensive care on to the ward. This is much earlier than expected so goes to show the fight in the girl… It's looking very good."
Cheryl previously said her co-star was "hopefully on the road to recovery"; adding she was "looking forward to ripping skirts off with you soon" – a reference to Bucks Fizz's memorable dance routine at the 1981 Eurovision Song Contest.
The band won the contest and went on to become one of the UK's biggest pop acts, with songs like My Camera Never Lies, Piece of the Action and Can't Stand The Heat.
Jay originally left the band in 1985, but rejoined Mike Nolan and Cheryl Baker in 2009. The trio perform as The Fizz, while their former bandmate Bobby G uses the Bucks Fizz name.
Last month, Jay said doctors had warned her that the operation to remove cancerous cells from her tongue might be prevent her from singing and speaking.
"If they take more of my tongue away the chances of singing, even talking, will be very slim," she told The Mirror.
The star, who has mimed at recent gigs with The Fizz, said she was given the option of not receiving treatment to preserve her voice, but rejected it outright.
"I have a young daughter," she said. "I want to see her grow up, I want to see her get married and see her grandchildren."
Follow us on Facebook, on Twitter @BBCNewsEnts, or on Instagram at bbcnewsents. If you have a story suggestion email entertainment.news@bbc.co.uk.