Brooke Kinsella's hopes for EastEnders knife crime storyline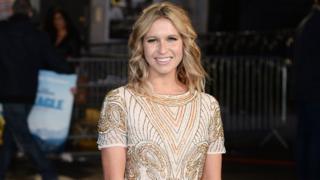 Former EastEnders star Brooke Kinsella has praised the soap's "poignant" planned storyline about knife crime.
The actress, whose brother Ben was stabbed to death on a London street in 2008, is working with the show's writing team on the forthcoming plot.
She believes TV soaps can have "a huge impact" when tackling social issues.
"It's also coming out around the 10th anniversary of Ben's death, so it's a particularly poignant time for me," she told BBC News.
Kinsella played Kelly Taylor in the BBC soap from 2001-2004.
The new plot will see Shakil, played by Shaheen Jafargholi, and Keegan, played by Zack Morris, attacked.
Kinsella says the subject is particularly relevant given the recent knife attacks in London.
"I've done a lot of work and campaigning, and I was hoping to say 10 years on from Ben's death that things have changed and we're in a better place, and sadly I can't say that," Kinsella said.
"Unfortunately we're still hearing about it every day, so I think it's the right time to be highlighting it. I think we all need to be doing our bit to raise awareness."
Kinsella praised several British soaps for using their platform to tackle big issues in recent months.
A recent Coronation Street storyline involved the rape of David Platt, while Emmerdale was commended for its depiction of a character suffering from dementia.
"I think soap storylines can have a huge impact," Brooke said.
"I know that for many viewers, soaps are escapism, and I understand they're family shows. But the fact that they're in people's homes four or five times a week, they have a huge opportunity to create awareness around these social issues.
"And soaps reflect real life and issues in society, so I commend them for highlighting something like this. I know they can be tough to watch, but I think it's so important and necessary."
Repercussions for the family
A spokesman for the show said viewers would see the "wide reaching ramifications of knife crime… as everyone attempts to comprehend the gravity of what has happened on their doorstep".
Kinsella isn't able to reveal specific plot details, but says "it's going to be a tough, hard-hitting storyline".
She says: "I'm aware that it will be quite upsetting, but the EastEnders team were wonderful, they were very brave in tackling this issue, they didn't just make it a short storyline, they're dedicating quite a bit of time to it.
"They're not just going to be focusing on the attack, but also the repercussions. It's also about how it affects family, friends, and the community. I think it's going to reach a lot of people's hearts and make them look at knife crime in a way that they hadn't."
Brooke says she's been consulted on the storyline as it's been written, with the EastEnders team sending over scripts for her to look at in order to make sure what's on screen is a "true reflection" of what happens to a family when such a tragedy takes place.
Kinsella started the Ben Kinsella Trust to educate young people on the dangers of carrying knives after her brother was fatally stabbed.
In EastEnders, her character was introduced as a prostitute who became friends with Zoe Slater (played by Michelle Ryan) and was taken in by the Slater family.
---
Follow us on Facebook, on Twitter @BBCNewsEnts, or on Instagram at bbcnewsents. If you have a story suggestion email entertainment.news@bbc.co.uk.