Bill Cosby sexual assault retrial to begin in Pennsylvania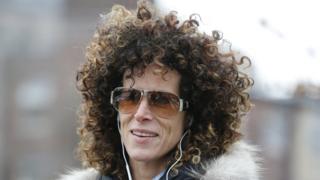 The retrial of the American actor and comedian, Bill Cosby, is due to begin in Pennsylvania on Monday.
Mr Cosby, 80, denies drugging and sexually assaulting former basketball player Andrea Constand 14 years ago.
The first trial, in June 2017, ended when the jury failed to reach a verdict.
The actor, who starred in the 1980s TV series The Cosby Show, has faced allegations from dozens of other women but has denied them all.
Mr Cosby enjoyed a family-friendly reputation for years before numerous sexual assault allegations came to light in 2015.
The retrial takes place in the light of the #MeToo movement, which has raised awareness of alleged sexual misconduct by a number of powerful media figures.
Protesters, waving placards reading "justice for survivors", gathered outside the courtroom ahead of the retrial.
A topless protester was dragged away by police.
Mr Cosby has been charged with aggravated indecent assault, a second degree felony, by the Pennsylvania prosecutor. The charge could carry a prison sentence of up to 10 years.
His lawyers say he and Ms Constand shared a romantic relationship after they met at Mr Cosby's old university.
Ms Constand, who is from Canada, had played basketball professionally in Italy and for Canada's national women's team.
When the attack took place, Ms Constand was working as director of operations for the women's basketball team at Temple University, Philadelphia, where Mr Cosby is an alumni.1
Other accusers
Around 60 women over five decades have publicly accused the Emmy award-winning actor of being a sexual predator. But statute of limitation laws mean that only one charge has been brought to trial.
The retrial will be before the same judge and district attorney as the first trial.
A jury consisting of seven men and five women was selected last week.
The judge will this time allow five additional accusers to give evidence, BBC correspondent Nada Tawfik reports.
From trailblazer to alleged assaulter
Mr Cosby has long been considered a Hollywood trailblazer for African Americans.
He rose to fame as the first black actor to star in a major drama series, I Spy, in 1965.
The role earned him three of his four Emmy awards before he created several shows including the influential The Cosby Show in 1984.
In January, the comedian performed his first stand-up gig since 2015, for which he was criticised by some on social media.