Biffy Clyro, The 1975 and Skepta win at this year's NME Awards
Biffy Clyro, The 1975, Skepta and Adele were among the winners at this year's NME Awards.
The ceremony took place at London's O2 Academy on Wednesday night.
Wiley, MIA, Slaves and The Pet Shop Boys all took home prizes too, while Glastonbury picked up the award for best festival.
It wasn't such a good night for 5 Seconds of Summer or Nigel Farage, though. They were named worst band and biggest villain, respectively.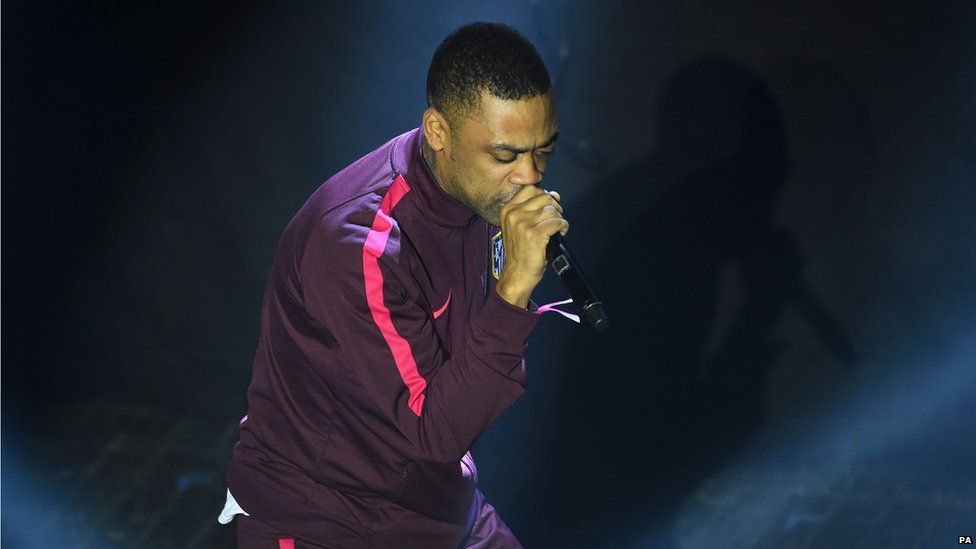 Image caption Wiley performed a two song set
Grime was one of the ceremony's big talking points.
Skepta, who won this year's Mercury Music Prize, was named best British male.
He then handed the prize for outstanding contribution to music to the "godfather of grime", Wiley.
Despite being widely credited with bringing the genre into the mainstream, it was Wiley's first ever NME Award win.
"I'm happy man. I see Skepta, Stormzy, all these people doing great things," he told Newsbeat.
"And it's not just grime. At the moment it could be afrobeats, it could be a style of house – but whatever is actually happening here, I love it."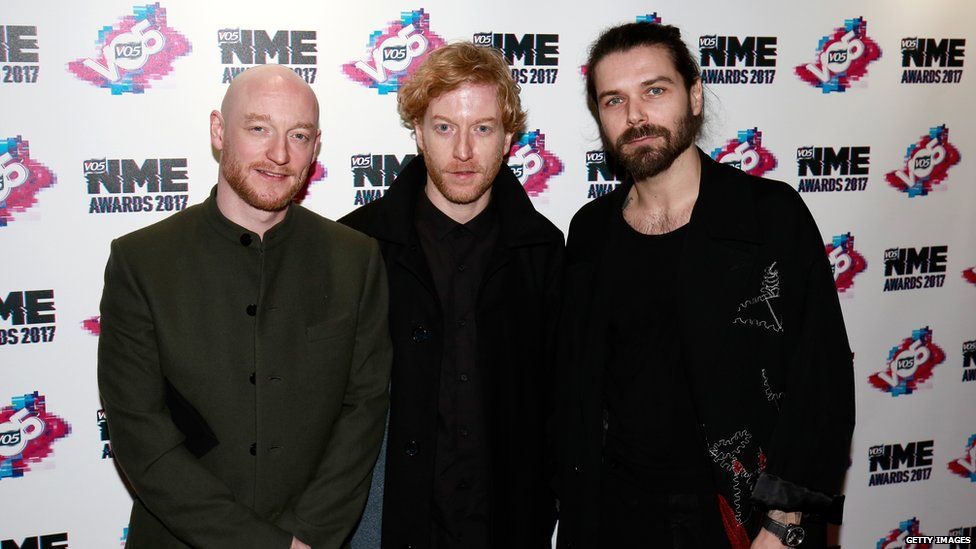 Image caption Biffy Clyro
Elsewhere best British band went to Biffy Clyro.
"I think this might be our fifth NME Award," singer Simon Neil told us backstage, "which is great, so thank you NME".
"No doubt the finger will fall off this award later like it has done every previous time," he joked.
"But that's part of the fun – we play 'find the finger'."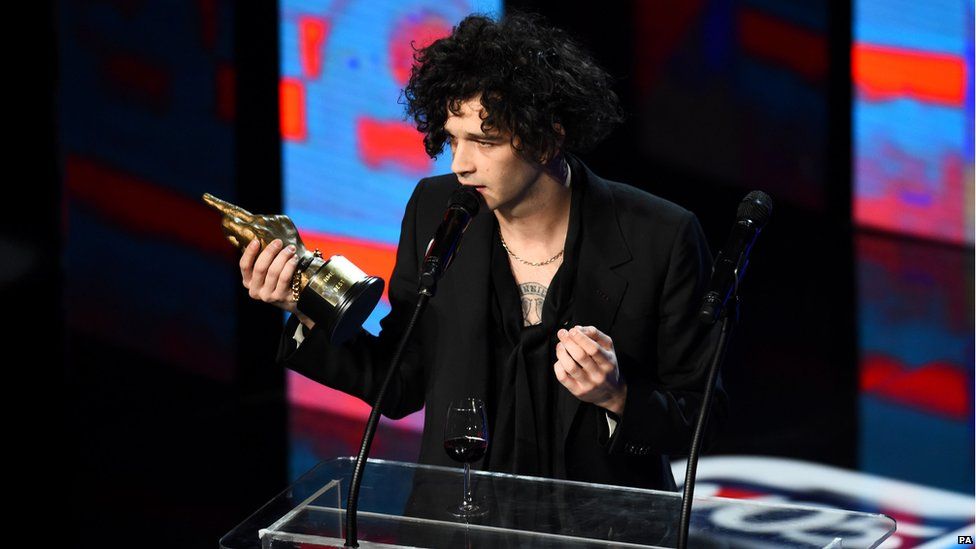 Image caption Matty Healy collects his award
The 1975 won best live band and singer Matty Healy told Newsbeat it felt good – especially since they've been named worst band at the NME Awards in the past.
"I was really weird about coming," he said. "Obviously it's a different editorial team now, and obviously we're amazing, so the whole thing was stupid.
"So I was a bit like 'do I come, do I not?' but then all of my mates were coming, and my band is brilliant, so I thought 'why not?'"
It was a political ceremony in more ways than one.
Donald Trump, David Cameron and Boris Johnson were all nominated for biggest villain, alongside eventual winner Nigel Farage.
MIA, who won best British female, also performed as part of a supergroup called Bands 4 Refugees, featuring Pixie Geldof, Charli XCX and members of Years & Years, Slaves and Peace.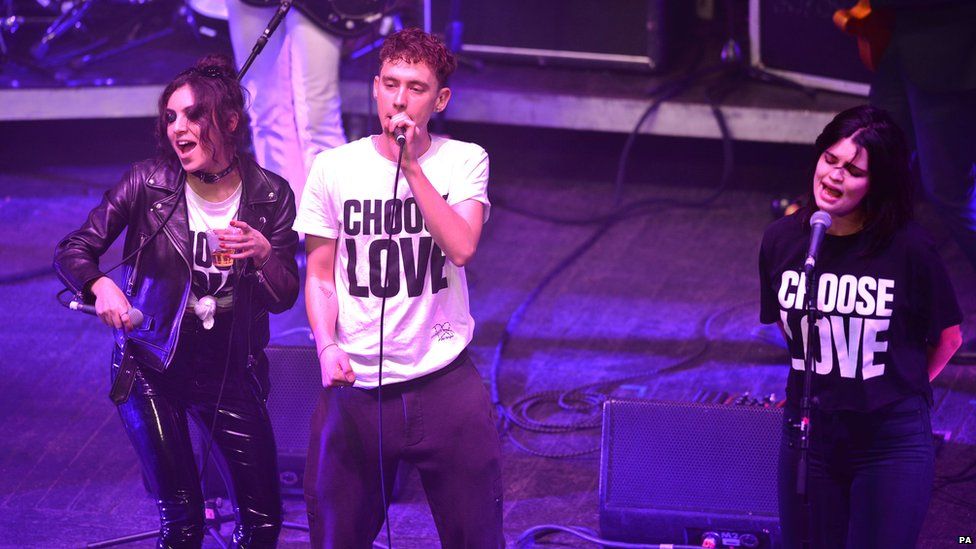 Image caption Bands 4 Refugees
"It really sucks to be talking about people that need help, even though we have to," MIA said.
Last year's Glastonbury Festival got a lot of mentions.
Not only did it win best festival, but Adele's performance earned her best festival headliner, while Coldplay's tribute to Viola Beach was named music moment of the year.
After struggling at this year's Grammys, Beyonce had another bad night.
She lost four out of the five awards she was up for, but did get hero of the year.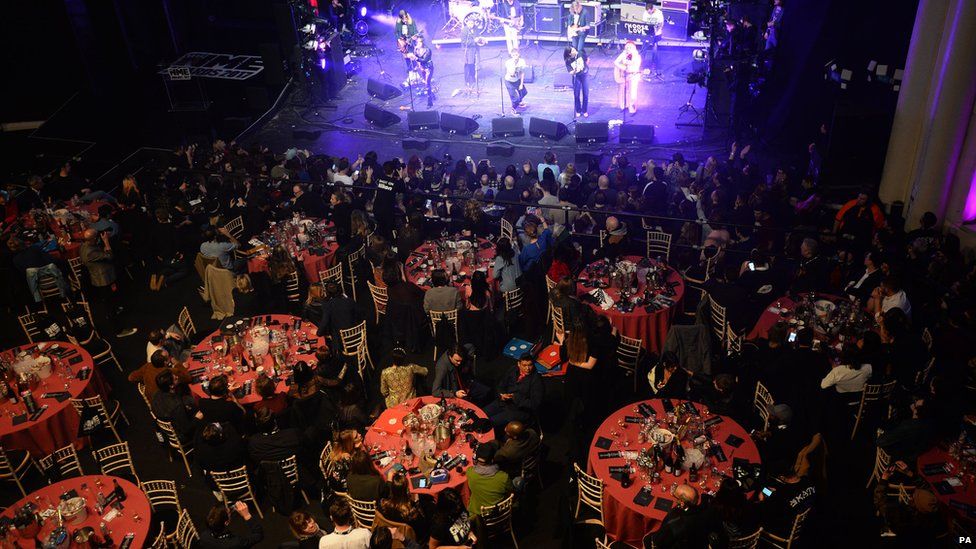 You can find a full list of winners below.
Godlike genius award – The Pet Shop Boys
Outstanding contribution to music: Wiley
Best British band – Biffy Clyro
Best international band – Metallica
Best British male – Skepta
Best British female – MIA
Best international male – Frank Ocean
Best international female – Christine & The Queens
Best new artist – Dua Lipa
Best album – Bastille, Wild World
Best track – Christine And The Queens, Tilted
Best live band -The 1975
Best video – Slaves, Consume Or Be Consumed
Best festival – Glastonbury
Best music film – Oasis, Supersonic
Best TV series – Fleabag
Best film – My Scientology Movie
Music moment of the year – Coldplay's Viola Beach tribute at Glastonbury
Best festival headliner – Adele
Best small festival – End Of The Road
Villain of the year – Nigel Farage
Hero of the year – Beyonce
Worst band – 5 Seconds Of Summer
Best reissue – Oasis, Be Here Now
Find us on Instagram at BBCNewsbeat and follow us on Snapchat, search for bbc_newsbeat