Bake Off's Nadiya Hussain tells troll 'I am home'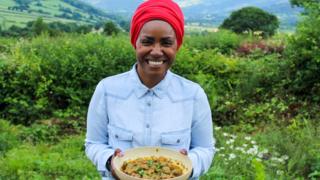 Great British Bake Off winner Nadiya Hussain has hit back at a Twitter troll who told her to "go home".
The TV presenter and cookery writer reacted after an online poster objected to "the spread of Muslims" and asked why she and others were not returning to "your countries".
Hussain, 33, who grew up in Luton, responded: "Have you not realised by now, that saying 'go home' is just not working any more.
"Go home to where? I am home?"
Her response received more than 1,000 retweets and 6,000 likes.
Hussain said: "I won't shut up. I won't put up and no I will not ignore it."
Hussain, who won the baking show title in 2015, has previously spoken about how racial abuse is part of her life and has been "for years".