Ariana Grande unveils emotional new single, No Tears Left To Cry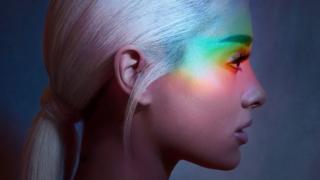 Ariana Grande has returned with her first new music since the terrorist attack that killed 22 people outside her Manchester Arena show in May 2017.
No Tears Left To Cry is an emotional anthem to overcoming adversity, channelling the resilience and optimism of her One Love concert, held just two weeks after last year's atrocity.
"Ain't got no tears left to cry," she sings in the single's soaring chorus.
"So I'm loving, I'm living, I'm picking it up."
Produced by Max Martin, the song transforms from a sombre, gospel opening into a summery pop banger – as Grande resolves to overcome fear and hatred "even when it's raining down".
"Don't matter how, what, when, who tries it," she sings over a strident drum beat. "We out here vibin'."
The 24-year-old has been teasing the song on social media since Tuesday, when she tweeted a teardrop emoji followed by a message telling fans, "missed you."
Subsequent messages contained the title in an upside-down, back-to-front font; and the single's artwork – a greyed-out photograph of Grande, with a rainbow smudged across her eyes.
'She felt everything'
Speaking earlier this year, Grande's manager, Scooter Braun, said the star had "cried for days" over the loss of life in Manchester.
"She felt everything – every face they announced, every name, she wore on her sleeve. Every bit of emotion because that's who she is."
Grande also said she had been reluctant to return to the studio following the attacks, telling Billboard magazine that concluding her world tour had "been a lot emotionally".
"It would be nice to really hold my loved ones close for a little while, stay home for a little bit," she added.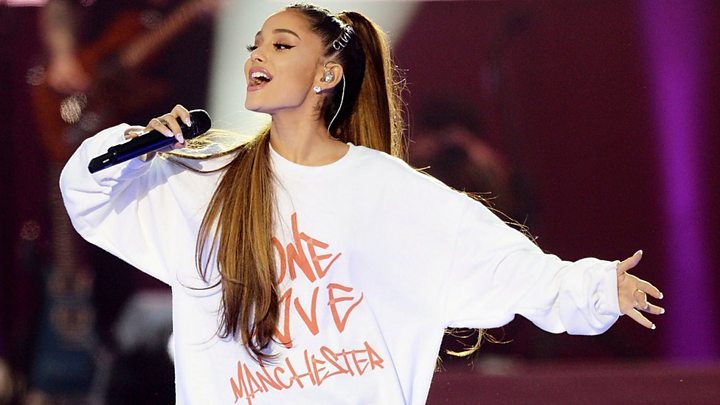 Grande eventually entered the studio late last year, working with Martin and Pharrell Williams, who told the LA Times the singer's new lyrics were "amazing".
"The things that she has to say on this album, it's pretty next-level," he added.
The album has yet to receive a release date but, on Tuesday, Grande changed her Twitter bio from Dangerous Woman – the name of her previous album – to the upside-down words "Honeymoon Ave," suggesting this might be record's title.
No Tears Left To Cry premiered worldwide at 0500 GMT, with the UK debut on Adele Roberts' Radio 1 show.
It finds the star emerging from grief and encouraging fans to "come with me".
"Right now I'm in a state of mind I want to be in, like, all the time," she sings defiantly.
"I'm loving, I'm living and I like it."
Follow us on Facebook, on Twitter @BBCNewsEnts, or on Instagram at bbcnewsents. If you have a story suggestion email entertainment.news@bbc.co.uk.