Actor Joe Cole: 'Violent and aggressive? That's not me!'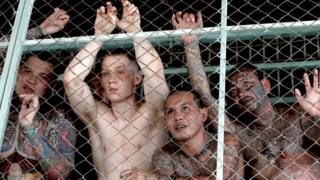 Joe Cole is someone you probably recognise from Peaky Blinders, after playing a gangster with a flat cap and a Brummie accent for five years.
But he didn't want to be known just for playing John Shelby – and so asked to be written out.
"The thing about this industry, particularly in the UK I find, is that if you do something well then everyone wants you to do that role," he tells the BBC.
"People will go, 'He's violent, he's aggressive and that's what he's good at.' And it's like, 'Hang on a minute, that's not me!'"
His latest film Prayer Before Dawn has its share of violence and aggression, but it also sees the 29-year-old trying to show a new side.
Based on real life, it follows the story of Billy Moore, a low-level criminal and drug addict from Liverpool who has been in and out of prison throughout his life and moves to Thailand to start a new life – but ends up back in jail.
Prisoners are given a second chance through Muay Thai boxing tournaments and Cole's character has to fight for his freedom.
It's a brutal watch, as the boxer spends most of the film bloody and beaten, but the chance of redemption and a fresh start keeps the viewer hooked.
"It's an emotional story and ultimately about a real-life person who was an addict following a journey, and that's what keep you interested," Cole says.
A 'complicated dude'
The actor spent a lot of time with the real Billy Moore, who published his memoir A Prayer Before Dawn: A Nightmare in Thailand in 2014.
"I became good friends with Billy, he was a fantastic resource – very open and honest with me, which meant I could fully embody that mentality in the film.
"I was shooting Peaky Blinders at the time in Liverpool when I got the role, so we would go for dinner.
"I learned a lot about who he is as a man, about his upbringing and how he would react to specific situations, what made him happy and it was fascinating."
Cole describes Moore, who is now back in prison in Liverpool, as a "complicated dude".
"He had a difficult life and is an addict who struggles with confidence and things like that, but essentially he's a sweet, loving and caring guy who put himself in difficult situations."
Filming in a real Thai prison
Set in a real Thai prison, with a cast of real boxers and ex-prisoners, communication between characters in the film was mostly non-verbal and there was a conscious effort to keep the setting as authentic as possible. Cole says he "went with an open mind".
He says: "I was excited and knew all the guys would be largely extras and non-professional actors, prisoner boxers and champion boxers.
"There was a transgender character in there too, who wasn't an actress and it was very exciting for me as it was so different to anything I'd done before."
The film was shot much like a documentary, with real sparring and long takes, which was a challenge for Cole as there were no cuts in the edit.
He took quite a beating in the film, as you can see from the collection of cuts and bruises that appear on his body.
"Everything had to connect, it was almost like a dance with myself and the fighter, so you had to have a certain amount of fighting ability," he says.
Playing the bad boy
One of the first major roles of Cole's career was as bad boy Luke in series six of Skins, and after Jack Shelby, Cole says he was worried about being typecast.
"Doing something well isn't always more of a blessing than a curse," he says.
"I know I have range – its just getting casting directors and producers to give you the opportunities."
The actor says he relished the chance to play Billy Moore and star in Black Mirror (in the dating episode Hang the DJ), because it would allow him to take on more "diverse roles".
"As an actor I'm interested in tackling a range of things," he says.
"It's why I did Black Mirror and then A Prayer Before Dawn.
"Black Mirror came at a really good time and it was a fantastic experience to work with [writer] Charlie Brooker and [actress] Georgina Campbell.
"It was really special and a lot of fun. Whereas A Prayer Before Dawn was physically and emotionally demanding, it was good to do Black Mirror afterwards as it was more fun, sweet and playful.
"I don't want to just do fighting films or rom-coms, though – I want to do a variety of different things."
A Prayer Before Dawn is in cinemas now and on digital from 30 July.
Follow us on Facebook, on Twitter @BBCNewsEnts, or on Instagram at bbcnewsents. If you have a story suggestion email entertainment.news@bbc.co.uk.