Universities should pay back fees for strike, says minister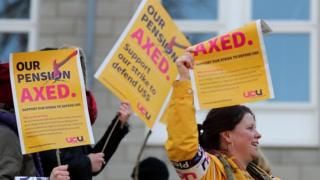 The universities minister says students whose courses have been disrupted by the university strike should receive compensation for lost classes.
Sam Gyimah said this could mean a refund on tuition fees or rearranging cancelled lectures.
At the launch of a new higher education regulator, Mr Gyimah told universities this was the "age of the student" and they deserved better value for money.
The minister also called on university staff to suspend their strike action.
The universities minister, speaking in Westminster at the launch of the Office for Students, said he was "very serious" about universities paying back students who had missed out on classes during the strike over pensions.
'Winds of change'
Mr Gyimah spoke of the importance of students getting what they expected from their courses, whether in teaching hours or the facilities that had been promised.
He told university leaders that they might feel as though this had been an "annus horribilis", with intense scrutiny of vice-chancellors' pay and university funding.
But Mr Gyimah told them there were no "calmer times ahead", because this tougher accountability was now the new landscape of higher education.
"This is not a blip. We are once again experiencing the 'winds of change' in the university sector," Mr Gyimah told university heads.
Establishing the Office for Students was part of this greater scrutiny, he said.
"Gone are the days when students venerated institutions and were thankful to be admitted. We are in a new age – the age of the student."
But on the level of tuition fees being charged in England, Mr Gyimah appeared to rule out the idea that different subjects, such as science, might have higher fees.
Instead he argued that there should be more diversity in how courses were delivered – such as studying for a degree in two years rather than three.
Mr Gyimah was speaking in the second week of a university strike, in which staff have walked out over proposed cuts to their pensions.