Teachers who help set exams face tough new regulations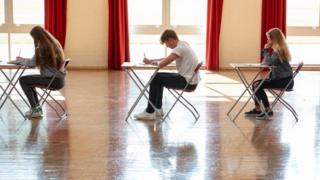 Teachers who help set exam questions could be banned from knowing when or whether they will be used in an attempt to clamp down on cheating.
Exams regulator Ofqual has set out plans to strengthen the rules following claims of cheating at two top private schools last summer.
Staff at Eton and Winchester colleges, who were also examiners, were suspended after allegations of exam leaks.
The proposals have been welcomed by exam boards and teachers' leaders.
Teachers will still be involved in writing exam questions but boards will have to tighten up the measures they take to "protect the integrity" of their contributions.
Boards will be expected to keep up-to-date records, detailing when teachers have been involved in setting exams and whether they may know the exact questions on the paper.
They will also be expected to review their plans to limit risks from such conflicts of interest.
Measures could include:
ensuring teachers do not know when or whether the questions they have helped develop will be used
sampling the work of teachers who have written exam questions to detect any evidence they have passed inside knowledge to students
better training and legal contracts to ensure teachers stay within the rules
Ofqual's review of the rules was announced by School Standards Minister Nick Gibb last August in the wake of claims of exam question leaks involving the Cambridge International Pre-U, often taken by private-school pupils as an alternative to A-levels.
Eton College's deputy head of academics, Mo Tanweer, left following allegations that he had shared confidential information about a forthcoming economics exam with staff and Winchester College suspended its then head of art history, after allegations of "advance knowledge" of exam papers.
'Important role'
The story prompted calls from one education union for teachers to be banned from teaching exams they help set.
Responding to the proposals, Geoff Barton, general secretary of the Association of School and College Leaders, said teachers who brought their classroom and subject expertise into the process of question-setting played an important role.
"They do so with great integrity, and the events of last summer are extremely rare," he said.
"The measures announced today are a sensible and proportionate approach to strengthening safeguards further while retaining the invaluable expertise and insight of teachers in the question-setting process."
The Joint Council for Qualifications which represents exam boards said "malpractice… seriously damages the entire examination system and undermines public confidence".
The JCQ welcomed the review, adding that its own improvements had, since last year, brought in stronger measures on conflicts of interest, better confidentiality clauses for teacher examiners and better training for teacher examiners on how to avoid malpractice.
Ofqual boss Sally Collier said the proposals would bring "greater clarity about our expectations and the implications for awarding organisations if information about an assessment is disclosed by a teacher who has been involved in its development".
A consultation on the proposal will run until the end of April.