'Signal-blocking phone pouches' for St Patrick's pupils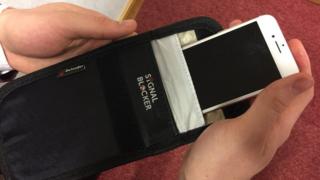 A County Down school is handing out signal-blocking pouches for mobile phones in a bid to stop young people becoming distracted behind the wheel.
A current pupil and a pupil who had recently left St Patrick's Grammar School have died in road crashes in the past year.
The Downpatrick school has also been affected by the death of a pupil's close relative.
Mobile phone use while driving was not necessarily a factor in the deaths.
But the school has decided to supply all sixth form pupils with the pouches for use when driving, and is the first school in Northern Ireland to take such a step.
'Intimately affected'
The phone blocker is a mobile phone storage pouch that is lined with special rigid polyurethane foam material.
When sealed inside the pouch, a mobile phone cannot receive any calls or alerts, thereby blocking the temptation for a student to use or check their phone – and eliminating the distraction that an alert can create.
It is hoped the pouches will help ensure pupils are not tempted to answer calls or read messages when driving.
They will be handed out during a special road safety assembly at the school later.
"As a school community, the Red High, as it is known locally, has been intimately affected by road deaths," said a school spokesperson.