Schools to drop nationality census, claim campaigners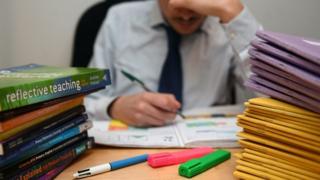 Privacy campaigners say that the Department for Education is going to stop requiring schools in England to collect data about pupils' nationality.
The Against Borders for Children campaign had warned the information could be used to check on the immigration status of pupils.
Human rights pressure group Liberty hailed it as a "victory" after legal challenges and calls for a boycott.
The Department for Education would not confirm reports of the policy change.
A report in Schools Week says schools will be told in the next few weeks they no longer have to collect the data.
But the Department for Education has declined to deny or confirm reports.
Immigration data
Campaigners had criticised the introduction of a requirement for schools to gather data about pupils' nationality and country of birth.
There had been a crowdfunded legal challenge, in a campaign backed by human rights groups, privacy campaigners and teachers' unions.
Campaigners say that up to 200,000 people had refused to give information as part of a boycott.
Opponents had claimed that the information gathered by schools would be shared by other government departments and used in immigration cases.
The Department for Education had rejected this – arguing that the information would only be used for educational purposes, such as tracking the progress of pupils from different backgrounds.
But campaigners claim they have succeeded in reversing the requirement for schools to gather such data.
Alan Munroe, a primary school teacher and spokesman for Against Borders for Children, said it was a "massive victory" and showed that "schools should be a safe learning environment for every child".
Gracie Bradley, policy officer at Liberty, said it was a victory for "teachers, parents and campaigners who stood up and refused to comply with this poisonous attempt to build foreign children lists".