Primary league tables: Special-needs pupils struggle with new tests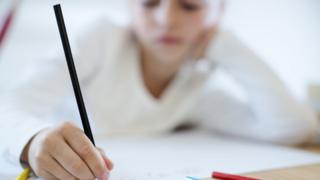 Pupils with special educational needs (SEN) in England are dropping further behind their classmates in national primary school tests, statistics show.
School league tables featuring the results of about 16,000 primary schools have just been published by the Department for Education (DfE).
The gap between SEN pupils and their peers has risen from 48 percentage points in 2016 to 52 this year.
Head teachers say special-needs education funding is in crisis.
The government statistics show 18% of children with SEN reached the expected level in reading writing and mathematics, compared with 70% of their peers without special needs.
Although SEN pupils' results edged upwards on last year, when 14% made the grade, their non-SEN peers boosted their results more dramatically from 62% to 70%.
Teachers have been warning pupils with special needs, such as mild autism or dyslexia, would struggle in the tougher tests introduced last year.
A National Association of Head Teachers said it was "one of those situations where money is the solution and schools need the government's help".
But Schools Minister Nick Gibb hailed the achievements of pupils and teachers, saying they had responded well to the more rigorous curriculum.
This set of pupils was the first to benefit from the government's new approach to phonics, he said.
"Pupils are now leaving primary school better prepared for the rigours of secondary school and for future success in their education," Mr Gibb added.