'It's not just women who sometimes regret parenthood'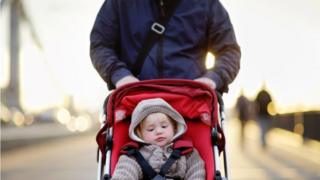 Interviews with mothers who regret having children hit the headlines earlier this month – but, as one man tells BBC News, it's not just mothers who feel this way.
"The stereotype is that your life isn't complete without a child," says Martin (not his real name), a father of four.
He says that as a young man, having children was expected – but the reality was "a daily struggle".
In his experience, "it's the friends without children who tend to be the happiest".
And he sees little sign of his responsibilities ending soon, even though his children have reached their teens and early 20s.
"If I could turn back time, if I knew then what I know now, children would never have been on the agenda."
"I am still waiting for the good times.
'Cleaning up juice'
"When they were babies, we had to get them up, feed them, dress them, just routine, routine.
"I did nothing but run after them because they couldn't keep still for a minute."
If he had failed to do so, Martin says, he would have been "cleaning up the orange juice they threw all over everything".
Of the women who regret having children, he says: "I know exactly how they feel."
His eldest two are living independently with children of their own – but Martin says he still gets calls saying: "I need help to do this. I need help to do that."
Martin was in the armed forces most of his working life and now works as a carer for elderly and disabled people.
He says if he and his wife didn't have children, "we would both now be retired, we would probably now have moved abroad, living life in the Sun".
"If we wanted to go out tonight to a show, if we didn't have the kids, we could do that.
"We might have a smaller house and the mortgage would have been paid off by now.
"Things would have been a lot simpler. And we would have had a lot more freedom of choice."
Martin hopes to move abroad in five or 10 years but worries "people would say, 'What happens if they need you, why are you spending their inheritance?'"
In some ways, he feels "it's my money, I earned it, why can't I spend it?"
"If I need a new car or to go on holiday, what's wrong with me spending it?"
"Why am I working… to save up and give all that money to someone else?
"Why am I not enjoying the fruits of my own labour?
"I feel like that's what I would like to do – but society doesn't like that, and my wife certainly doesn't agree with that.
"She's like:, 'It's the kids' inheritance.'
"I love all my kids. I love all my grandchildren. I would die for them.
"But I am at the stage in my life, if I didn't have kids and wouldn't need to work, my wife and I could be enjoying ourselves, but we have children and I take responsibility for them."