Governors quit free school where no pupils did GCSEs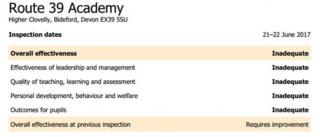 All the governors of a free school in Devon have quit after it was taken over by another school.
An damning Ofsted inspection last year rated Route 39 Academy, near Bideford, inadequate in all areas and Launceston College was brought in to run it.
The eight governors said they had "no confidence that the plans for Route 39 Academy are in the best interests of students, staff or parents".
The BBC contacted the school for a comment.
More on this story and others from Devon
During last year's inspection, Ofsted found Year 11 pupils had not been entered for external exams and there was poor attendance across all years.
It also said governors and school leaders had failed to ensure safeguarding procedures and practices are robust enough to keep students safe.
The governors said in a letter to the Regional Schools Commissioner (RSC) for the South West that staff had been "bullied, ignored and humiliated" by inspectors.
They also said Launceston College had a "traditional approach which is ideologically opposed to that of the Route 39 founding vision".
Route 39 was opposed by a number of other local schools who said it was unnecessary, but was backed by then Education Secretary Michael Gove.
In a statement, Ofsted said its inspection of the academy was well evidenced.
"The school potentially damaged the life chances of some of its pupils by illegally refusing to enter them for GCSE examinations," it said.
The Trust's complaint was not upheld and they did not pursue it to the next stage, which would have involved a scrutiny panel, including one person from outside Ofsted.
No-one from the Department for Education or Launceston College was available for comment.
Free schools are independent and paid for by central government, not local authorities as with other state schools.