Fostering children: Job or vocation?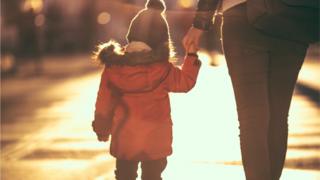 Foster carer Sarah Anderson says there should be workers' rights for people in her role.
Ms Anderson fosters children for Hampshire County Council, but is not classed as a "worker" and therefore does not receive the same rights.
She's launching a legal claim to argue for workers' rights for people in her role.
Foster carers tell the BBC there are difficulties with applying such rights to what they do.
Mandy Potts from Heybridge, Essex, has been a foster carer for 24 years.
Ms Potts fosters and provides a respite service for children with additional needs.
She looks after children, from babies up to 18-year-olds, and gets paid "for what I love to do".
Ms Potts continues: "While I can understand it would be nice if we had protection rights, I feel looking after children is not a job, it's a way of life."
She appreciates the role means being available at all hours but says continuity of care is especially important for vulnerable young people.
There is also a "very generous tax allowance for earnings due to the nature of the job," and change could see carers paying tax like other workers.
"It's a double-edged sword," Ms Potts says, but "parenting is a full-time role whether it is your biological children or ones that you look after through fostering".
You may also like:
Ken Talbot lives in North West England. He and his wife have fostered teenagers for the past four years.
Mr Talbot has also worked as a social worker, family therapist and company director so has built up a lot of knowledge of this issue.
He agrees with Sarah Anderson to some extent. "Local Authorities need skilled and caring people in what can often be a difficult role," he says.
Mr Talbot explains fostered children and young people end up becoming part of a family with a carer always 'on duty'.
"How realistic is it ask for all this commitment without making any commitment in return?
"Sarah is correct – the basic rights of foster carers should be considered so that we achieve something like the rights that other workers have".
By Bernadette McCague, UGC and Social News team