Degrees courses to be rated gold, silver and bronze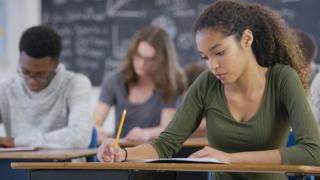 Degree courses are to be rated for quality, subject by subject, under a new pilot scheme which ministers say leaves universities "no place to hide".
Individual subjects at different universities will be graded gold, silver or bronze by a new tool feeding in official data on teaching quality.
But students will not be able to use the rankings to choose their courses until 2020, when the tool goes live.
Universities say the assessment of subjects must be effective.
'Lagging behind'
The new system to rate teaching is part of the government's attempt to get tough on universities, which charge students nearly £30,000 for a three-year degree, and have come under fire for paying their senior managers very high salaries.
Universities Minister Sam Gyimah said: "Prospective students deserve to know which courses deliver great teaching and great outcomes – and which ones are lagging behind.
"In the age of the student, universities will no longer be able to hide if their teaching quality is not up to the world-class standard that we expect."
The plans, which are to be piloted with 50 universities initially, builds on the new ranking system for universities overall.
Graduate salaries
This is also supported by data from the Teaching Excellence Framework (TEF) which combines a range of data on course teaching to arrive at the ranking.
And there will also be information on which jobs students go on to, how much they earn and how many drop out.
A consultation on the way the new framework will operate is being launched and will last 10 weeks.
A spokesman for Universities UK said: "TEF will stand or fall by whether it can provide accurate and meaningful information to inform student choice.
"The assessment of subjects needs to be effective and not overly burdensome."
It added that the independent review of fees, to be held in the next year, would be important in judging the success of the idea.