'Conflicting messages' stop children walking and cycling to school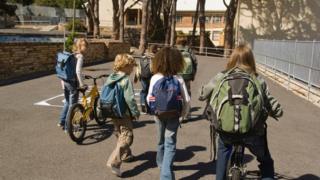 "Conflicting messages" on safety are preventing parents from encouraging their children to walk or cycle or school, according to campaigners.
A survey by Sustrans and the Scottish Parent Teacher Council found 42% of parents felt safety was a barrier to travelling actively to school.
Just 3% said their child cycled to school, but almost half already walked.
Eileen Prior, executive director of SPTC, said: "Parents often get conflicting messages."
She added: "They are expected simultaneously to be responsible for keeping their children safe, for ensuring they are fit and active, and very often, for getting to work on time.
"These pressures often lead to a vicious circle of competing imperatives. For instance, we know driving too close to schools to drop off children actually creates danger in many ways."
---
Case study: The Van Zon family
Karen Van Zon tries to walk or cycle with her three children to and from primary school every day.
The family, from Glenrothes, live less than a mile from school but the journey takes them along a busy trunk road and across a number of junctions and crossings.
"The last section before the school is really quite dangerous," Karen said.
"We have had a couple of near misses from drivers not paying attention when parking and reversing around the school entrance."
Karen wants her children to travel to school unaccompanied but says until the streets around the school are safer she has no choice but to travel with them.
"In the meantime it's very frustrating and dangerous for parents and children who have to negotiate the route on foot or bike every day," she said.
"The situation encourages people to drive as they feel it will be safer."
---
'Journeys are not safe'
The survey asked 1,232 parents, who were engaged with the SPTC, how their children travel to and from school and why they travel in this way.
Of those questioned, 42% said safety was a barrier to their child walking or cycling to school, followed by a lack of cycle routes (29%), too much distance (22%) and not enough time (17%).
Parents said safer walking and cycling routes and slower traffic speeds were most likely to encourage active travel.
The survey suggested that 46% of children already walked to school, 3% cycled and 2% travelled by scooter.
Convenience was cited as the main driver of travel choice.
Lynn Stocks, acting head of behaviour change at Sustrans Scotland, said the survey confirmed what they were already hearing anecdotally from parents and teachers.
"Increasing the number of pupils travelling actively to school is a simple way of providing children with the moderate intensity of exercise required every day," she said.
"However it is clear that as long as parents feel that these journeys are not safe, they will be unwilling for their children to travel actively."