'Class divide' in university entry exams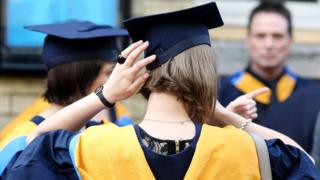 Half of white working-class students going to university in England have applied with vocational qualifications as well as A-levels, a think tank says.
And in the North East, the Social Market Foundation says, 35% of them have entered with only vocational exams.
The think tank is calling for alternatives to A-levels to be given much more recognition.
And it warns of "institutional snobbery" against vocational exams.
The research from the Social Market Foundation highlights that vocational qualifications are a significant route into university – with about a fifth of places being awarded entirely on the basis of vocational exams.
Vocational exams 'ignored'
But this is not evenly spread – with the report highlighting that working-class students from the north of England are particularly likely to have gained places with vocational qualifications.
Young people from ethnic minorities are also disproportionately likely to apply to university with vocational qualifications, such as BTecs.
Children from poorer families are twice as likely to apply to university with vocational qualifications than the children of professional families.
There is also a regional difference, with fewer people in the South applying with vocational qualifications.
The think tank says this social divide produces an unhelpful bias in the system – with A-levels dominating political debate about university entry.
The report says the emphasis on A-levels means that universities do not always give enough support or recognition for applicants with vocational qualifications.
Entry requirements can often be set in A-levels, with the risk of putting off applicants with vocational qualifications.
"For too long, politicians and the media alike have ignored and even belittled the vocational route, because politics and the media are dominated by people who took the traditional route of A-levels then university," said James Kirkup, director of the Social Market Foundation.
"Most of the people who run the country didn't do BTecs, and they don't come from the sort of background where BTecs matter most.
"The result is institutional snobbery against vocational qualifications and the people who have them."
Maddalaine Ansell, chief executive of the University Alliance group of universities, said there had to be support for vocational alternatives to A-levels as a route into higher education – so they did not "end up being dead-ends".