Child abuse inquiry: School 'reputations put before abuse victims'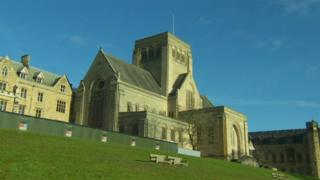 Two leading Roman Catholic schools "prioritised monks and their own reputations over the protection of children", a report says.
"Appalling" abuse was inflicted on pupils at Ampleforth in North Yorkshire and Downside in Somerset over 40 years, the Independent Inquiry into Child Sexual Abuse (IICSA) said.
But, the report said both institutions attempted to cover up the allegations.
Ten individuals, including monks, have been convicted or cautioned for abuse.
The report, based on evidence heard by the IICSA's investigation of the Roman Catholic Church and the English Benedictine Congregation, said, however, the true extent of the abuse is "likely to be considerably higher" than the number of convictions.
Professor Alexis Jay, Chair of the Inquiry, said: "For decades Ampleforth and Downside tried to avoid giving any information about child sexual abuse to police and social services.
"Instead, monks in both institutions were very often secretive, evasive and suspicious of anyone outside the English Benedictine Congregation.
"Safeguarding children was less important than the reputation of the Church and the wellbeing of the abusive monks."