Brightlingsea pupils 'feel unsafe' at Colne school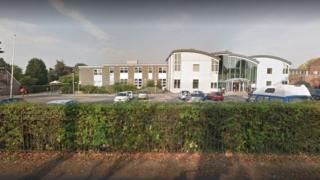 Pupil behaviour at a once outstanding school has become "scary" and "frightening", it has emerged.
The Colne Community School in Brightlingsea is part of the Thrive Partnership.
Ofsted, which previously rated it as outstanding, now says it is inadequate and in need of special measures.
The Thrive Partnership said it had "worked to address many of the issues identified".
The Ofsted inspection follows the suspensions of Thrive chief executive Nardeep Sharma OBE and executive head teacher Catherine Hutley.
'Concerned'
The report said pupils "do not feel safe", and a "significant minority" of pupils created a "sometimes frightening environment around the school".
It said the school leadership was "ineffective at dealing with this".
"The behaviour of some pupils is accurately described by staff as 'scary'," inspectors said.
They also said teachers were disheartened and felt unsupported, pupil progress was poor and that parents, staff and pupils had "lost confidence in leaders' ability to run the school effectively".
The Thrive Partnership acknowledged parents and students would be worried about the report, but said it had acted swiftly to accept support and resolve the situation.
The Colne's sister school Philip Morant was recently inspected by Ofsted and was also rated inadequate.
Inspectors there found "pupils outcomes have suffered as a result of poor leadership over time" and said "some vulnerable pupils do not feel safe".
The Thrive Trust plans to transfer both the Colne and its sister school – Philip Morant in Colchester – to another academy group during the summer.
Neil Jones, chairman of trustees, said the board had "been concerned" about the Colne for "some time" and said it took the Philip Morant findings "very seriously".