Birmingham Islamic faith school guilty of sex discrimination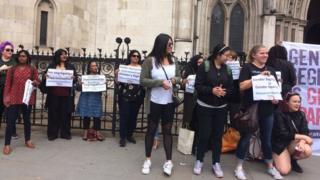 An Islamic faith school's policy of segregating boys and girls is unlawful sex discrimination, a court has ruled.
The case was heard at the Court of Appeal as Ofsted challenged a High Court ruling clearing the Al-Hijrah school in Birmingham of discrimination.
Ofsted's lawyers argued the segregation left girls "unprepared for life in modern Britain".
Appeal judges ruled the school was discriminating against its pupils contrary to the Equality Act.
However, the court did not accept the argument the school's policy had disadvantaged girls more than boys.
Midlands Live: Judges rule in favour of Ofsted; Sculptures raised £250,000 for hospital
The three appeal judges heard boys and girls, aged four to 16, attend the school, in Bordesley Green.
But from Year Five, boys and girl are completely separated for lessons, breaks, school trips and school clubs.
In 2016, Ofsted ruled the school was inadequate and it was put in special measures, saying its policy of separating the sexes was discrimination under the 2010 Equality Act.
In November, High Court judge Mr Justice Jay overruled the inspectors, saying that they had taken an "erroneous" view on an issue "of considerable public importance".
Speaking after the Court of Appeal ruling Amanda Spielman, Her Majesty's Chief Inspector of Schools, said educational institutions should never treat pupils less favourably because of their sex.
"The school is teaching boys and girls entirely separately, making them walk down separate corridors, and keeping them apart at all times," she said.
"This is discrimination and is wrong. It places these boys and girls at a disadvantage for life beyond the classroom and the workplace, and fails to prepare them for life in modern Britain," she said.
She added the number of similar cases in schools across the country were "in the low 20s".