WPP investors revolt over Sorrell scandal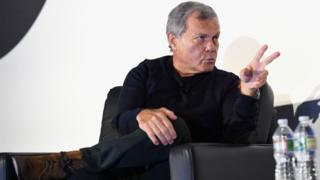 WPP shareholders have challenged the firm's board of directors amid anger over the way it handled the departure of founder, Sir Martin Sorrell.
Almost a third of shareholders did not back the company's pay and bonus scheme and almost 17% did not support the re-election of chairman Roberto Quarta.
Shareholders have demanded more clarity over the departure of Sir Martin.
He resigned in April amid allegations of misconduct.
His departure came amid allegations of payment to a sex worker and poor treatment of staff – which he denies.
Sir Martin is due to receive up to £19m over the next five years.
The shareholder votes were announced at the company's annual shareholder meeting, where Mr Quarta defended the advertising giant's role in the exit of Sir Martin.
The chairman of WPP has defended the way the advertising giant handled the resignation and fall-out from the departure of Sir Martin Sorrell.
Roberto Quarta told the annual shareholders' meeting that the "board acted appropriately throughout".
He faces a possible shareholder revolt over his re-election and the company's executive pay and bonus scheme.
Sir Martin has faced claims involving payment to a sex worker and poor treatment of staff – which he denies.
The former chief executive, who over 30 years turned WPP from a small maker of wire baskets into the world's largest advertising company, resigned in April.
An internal inquiry looked into allegations made by a whistleblower, but the report has not been published because WPP said doing so would breach data protection rules.
Mr Quarta told the AGM in London: "The process that the Board followed in response to the allegation against Sir Martin was robust both from a governance and legal perspective.
"Although we have confirmed that the matter was financially wholly immaterial to WPP, we understand why some would like the company to disclose or confirm further details of the allegation.
"However, right from the outset, the board has acted in accordance with unequivocal legal advice that data protection law prohibits us from doing so."
A report in the Financial Times earlier this week raised issues about Sir Martin's treatment of employees.
Mr Quarta said: "While we are not able to comment on individual cases or specific allegations, I want to make it clear that at WPP – as in any other workplace – everyone is entitled to be treated with respect.
"As we said in response to the FT's report, everyone at WPP should feel able to raise concerns and to have them listened to and acted upon as appropriate."
The company will announce later the result of shareholder votes on the re-election of directors and the remuneration report, which includes payments worth millions of pounds to Sir Martin over the next five years.
Proxy votes have already been cast, and the BBC understands that around 25% will oppose ongoing payments to Sir Martin.