World Cup 2018: Aldi and Lidl will close early if England in final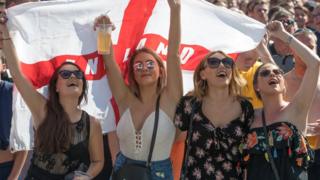 Supermarkets Aldi and Lidl say they will close stores early on Sunday if England get through to the World Cup final – because "football's coming home".
The chains have promised all staff in stores in England that they can go home at 15:00 BST on Sunday 15 July so they can watch the match.
Now people are asking whether other supermarkets will follow suit.
England will meet Croatia in the semi-final in Moscow on Wednesday.
Embracing the English football fever, Aldi tweeted: "We're pretty sure it's coming home right?
"We want our colleagues to be the 12th man cheering on the lads."
England fans in mad dash to Moscow
The supermarket said it usually closes at 16:00 on Sundays, which is when England will (hopefully) be kicking off.
Meanwhile, Lidl – confidently emphasising "when", not if – said: "*When* our boys make it to the final this Sunday, it will be early doors across our English stores."
It comes after nearly 20 million television viewers watched England beat Sweden in the quarter-finals on Saturday.
On Twitter, people have been asking other UK supermarkets whether they would also be closing early on Sunday.
One man, who said he was an employee of Sainsbury's, tweeted: "I believe all stores across the country should close early this Sunday to celebrate the fact the football is indeed coming home."
And asked on Twitter by one customer whether it had extra delivery slots on Sunday "for the football to come home in", supermarket Tesco said: "There's a football shaped space in our Moscow to London delivery van!"
Other businesses are also attempting to join in on the England fever. Mobile phone company Three has added emojis of three lions to some of its store fronts.
Meanwhile, the British Summer Time festival in Hyde Park in London announced it is postponing planned events to screen Wednesday evening's match.
Wimbledon Tennis Championships said it will not move the men's singles final on Sunday afternoon, which clashes with the World Cup Final – even if England do get through.
ITV said there are no plans to tell the Love Island contestants if England make it through to the World Cup. The contestants in the Spanish villa currently do not know that England have reached the semi-finals, a spokesman said.