Waitrose hit as Verifone payment system crashes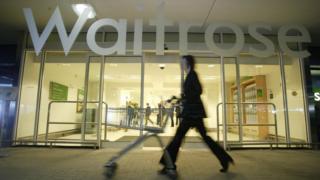 Waitrose has apologised after customers were left unable to pay by card on Tuesday evening.
The supermarket chain was one of several businesses hit by a failure at card machine network Verifone.
Customers in Birmingham and London were among those taking to social media, saying they had been asked to pay with cash in Waitrose stores when the card system crashed.
Waitrose and Verifone said the problem had now been resolved.
One customer, David Iwanow, tweeted that the credit card payment system had crashed across all of Waitrose's stores.
Another Twitter user, James Littlewood, said a Waitrose store manager handed out chocolates to people waiting in the check-out queue after the system crashed.
A Waitrose spokesman said: "We were among a number of businesses impacted by intermittent failures to their card payment system.
"The situation has been resolved, however we are very sorry to customers for the inconvenience."
Verifone, which is based in the US but is available in more than 150 countries, said: "We have resolved the issue and we are back online."