Volkswagen puts Herbert Diess in the driving seat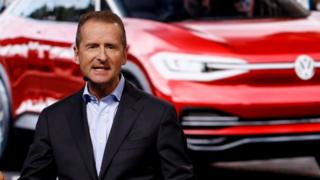 Volkswagen has replaced its chief executive with Herbert Diess, who takes on responsibility for the entire company after overseeing the VW brand.
Mr Diess replaces Matthias Mueller, who was appointed in 2015 at the height of the diesel emissions scandal.
In the past, Mr Diess has clashed with unions and has been known for his cost-cutting measures.
As well as Volkswagen, the German company also owns several other brands including Audi and Porsche.
The carmaker also said it will reorganise its 12 brands by creating six new vehicle divisions.
The management shake-up signals VW's desire to move forward from the emissions scandal and revive its financial fortunes.
Mr Mueller had been running Porsche before being elevated to replace Martin Winterkorn.
He has presided over a wide ranging restructuring of the company and its other brands.
However, in May 2017 prosecutors in Stuttgart said they were investigating Mr Mueller over suspicions he may have known about the diesel cheating before it became public.
As well as cars, the VW empire spans motorbikes, bus, and truck operations. Its brands also include Bentley, Scania, Skoda and Ducati.
VW chairman Hans Dieter Poetsch said in a statement that Mr Mueller had done "outstanding work" for the company.
The statement continued: "He assumed the chairmanship of the board of management in the fall of 2015 when the Company faced the greatest challenge in its history.
"Not only did he safely navigate Volkswagen through that time, together with his team, he also fundamentally realigned the group's strategy."