Viagogo taken to High Court by competition regulator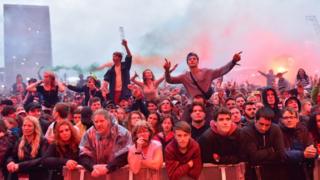 Ticket reseller Viagogo is being taken to court by the competition watchdog over concerns it is breaking consumer protection law.
The Competition and Markets Authority took action against the big four secondary ticket sites last November.
StubHub, Get me in! and Seatwave promised to change their business model but Viagogo has failed to make changes required by the CMA.
That failure has resulted in the High Court legal action announced on Friday.
Andrea Coscelli, CMA chief executive, said consumers who look for tickets on resellers must be told what seat they will get and whether they risk being denied entry to a venue.
"This applies to Viagogo as much as it does to any other secondary ticketing website. Unfortunately, while other businesses have agreed to overhaul their sites to ensure they respect the law, Viagogo has not," he said.
"We will now be pursuing action through the courts to ensure that they comply with the law."
The CMA is also seeking an interim enforcement order from the court that would put a stop to some of Viagogo's practices until a full trial takes place.