Unilever sales rise on higher prices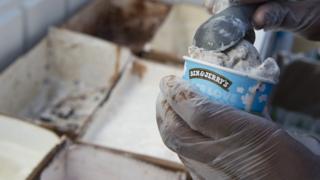 Price increases lifted sales at Unilever in the first three months of the year, the household goods giant has said.
The Anglo-Dutch owner of Dove, Ben & Jerry's and other household brands reported underlying sales growth of 2.9%, in spite of a slight dip in volume.
The firm said the quarterly growth vindicated its long-term strategy.
In February, it rebuffed a takeover by US rival Kraft Heinz.
Chief executive Paul Polman said: "The first quarter shows growth once more ahead of our markets."
"This reflects our continued investment in both innovations and brand support and reconfirms the strength of our long-term sustainable compounding growth model."
Unilever, which embarked on a wide-ranging review after Kraft came knocking, earlier said it would aim to cut costs and sell or spin off its struggling spreads business, which includes Flora and Stork.
Excluding that unit, underlying sales were 3.4%, Unilever said.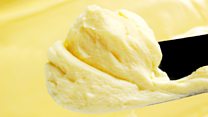 Total sales were 13.3bn euros (£11.1bn), up 6% in part on exchange rate factors. The gains outpaced growth in many markets, but were not uniform. Sales declined in Europe and North America.
The firm said it expected to deliver sales growth of 3% to 5% for the year.
Analysts said Thursday's report pointed to a positive future for the firm. The sales growth beat expectations.
"Unilever have been pushed by the Kraft Heinz approach into a more radical pace and scale of change than they had originally chosen for themselves," Steve Clayton, fund manager of the HL Select equity funds, wrote in an analyst note.
"We think the group has enormous potential to steadily boost returns whilst compounding sales over time."