UK retail sales fall in December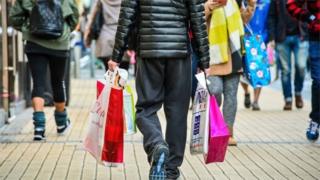 UK retail sales fell by 1.5% in December compared with November, a sharper fall than expected.
The Office for National Statistics (ONS) said many shoppers had shifted spending to November from December to take advantage of Black Friday offers.
For 2017 as a whole, the quantity bought increased by 1.9%, which was the lowest annual growth since 2013.
The ONS said the longer-term picture was one of slowing growth, with higher prices squeezing people's spending.
It said retail sales were expected to contribute almost nothing to economic growth in the last three months of 2017.
Inflation has been outstripping increases in wages, denting the spending power of shoppers.
Chris Williamson, chief business economist at IHS Markit, said: "The data add to signs that rising prices and stubbornly weak pay growth continue to erode consumer spending power and will act as a drag on the economy in 2018."
This picture was underlined on Friday when trading updates from Carpetright and clothing chain Bonmarche unsettled investors enough to prompt big share price falls.
Carpetright shares almost halved after it issued a profit warning amid a "sharp deterioration" in UK trade, while Bonmarche shares sank by a quarter after it said like-for-like sales at its stores dropped nearly 10% in the last three months of 2017.
The ONS said that the trend towards online spending was continuing, and that almost one in five pounds was now spent online.