UK growth boosted by warmer weather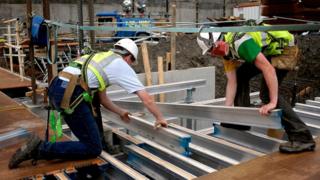 The UK's economy grew by 0.4% in the three months to June, as construction and services were lifted by the warmer weather, according to the Office for National Statistics (ONS).
That compares with a growth rate of 0.2% in the first quarter of the year.
Following recent changes in the way the UK's GDP is calculated, the ONS also produced a monthly indicator, showing 0.1% growth for June.
In the previous month, GDP growth was a more robust 0.3%.
The head of national accounts at the ONS, Rob Kent-Smith, said: "The economy picked up a little in the second quarter, with both retail sales and construction helped by the good weather and rebounding from the effects of the snow earlier in the year.
"However, manufacturing continued to fall back from its high point at the end of last year and underlying growth remained modest by historical standards.
"The UK's trade deficit noticeably worsened, as exports of cars and planes declined sharply while imports rose."
Declining trend
The service sector grew 0.5% in the three-month period, while construction output jumped 0.9%, but industrial production fell 0.8% during the quarter.
The ONS also mentioned World Cup celebrations as a contributing factor.
However, it added: "Abstracting from these quarterly movements, the underlying trend in real GDP is one of slowing growth.
"The UK economy grew by 0.6% in the first half of 2018, compared with the second half of 2017 – continuing the declining trend seen since the second half of 2014."
Nancy Curtin, chief investment officer at Close Brothers Asset Management, said: "A rebound in economic growth in the second quarter should be taken with a pinch of salt. Even with some acceleration, the economy is far from its peak.
"The rate of growth looks subdued in comparison to some global peers, with the US economy growing at twice the speed.
"There are a number of factors underpinning sluggish economic expansion; the EU, a major trading partner for the UK has also seen momentum slow and businesses continue to be hindered by Brexit uncertainty."